Xue and Zhang, China's sole hope for beach volleyball glory
China's young pair of Xue Chen (pictured left) and Zhang Xi (pictured right) has shouldered the nation's expectations to pursue a first-ever beach volleyball gold medal in London, after a failed attempt at home four years ago.
More pressure fell upon the world's No 2 duo, the bronze medal winners at the Beijing Games, as this time it has to fight for China's gold dream alone. Their seniors, Wang Jie and Tian Jia, walked away from the Beijing Games with silver medals and retired soon after.
"Our greatest opponent right now is pressure and the will to win the gold medal in London," said Zhang, 27.
"We have a lifetime opportunity in 2012, and while we continue to learn to balance pressure and relaxing, we have to work on improving our teamwork. We need to improve both physically and mentally."
The 23-year-old Xue hails from Fujian province on China's southeast coast, while Zhang was born in Nantong, to the north in Jiangsu province.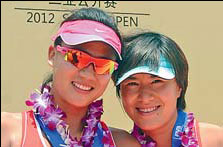 Xue and Zhang began to play together in 2006 when they won gold at the Asian Games. Following the Beijing Olympics, they played with different partners, but reunited two seasons ago. They won three titles in 2010 and two more in 2011 and finished third overall in the world both seasons.
However, head coach Miao Zhihong believes Xue and Zhang still fall behind the Brazilians and Americans in technique and ability to cope with pressure.
"We are not as strong as we expected. It's very hard to win the gold," said Miao.
Xu Li, director of the Volleyball Management Center of the General Administration of Sport, even called it "a dangerous journey" for Xue and Zhang to reach the semifinals.
"An outdoor event like beach volleyball is highly affected by natural conditions. The conditions of the field and weather will affect the players' performances," he said.
Besides unfavorable natural conditions, the United States' two-time defending champions, Misty May-Treanor and Kerri Walsh - the world's No 1 team - as well as Larissa Franca and Juliana Silva from Brazil are legitimate threats.
But they will also face strong challenges from American up-and-comers Jen Kessy and April Ross. The two Americans missed out on an Olympics in 2008, but have made big waves on the international volleyball scene over the four years since, including winning the 2009 World Championship.
On the men's side, China's sole pair Xu Linyin and Wu Penggen, ranked 11th, are not deemed real contenders, especially when 30-year-old Wu is still being treated for a left knee injury sustained last year in Russia.
Brazil and the US remain dominant on the beach. Defending champions Phil Dalhausser and Todd Rogers from the US finished second in the world last season, following the Brazilian pair of Emanuel Rego and Alison Cerutti, who won the World Championship in 2011 and the tour title.
The two countries have strong backups in Brazil's Pedro Chuna and Ricardo Santos and the American duo of Jake Gibb and Sean Rosenthal. The German combo of Julius Brink and Jonas Reckermann, who won the World Championship in 2009, are expected to challenge those teams.