Aries Merritt surpassed China's Liu Xiang for the fastest time in the world this year to win the 110m hurdles in 12.93 sec on Saturday at the US Olympic Track and Field Trials.
Merritt (pictured), the reigning indoor world 60m hurdles champion, cut his personal best by .10 sec and came in under the prior season best of 12.97 set by Liu on May 19 at Shanghai to secure his spot in London.
"To break 13 in the final like I did was just phenomenal," Merritt said. "I had a pretty decent start and I started building from there."
Only seven men have ever run faster in the event than Merritt did to take the US crown, and only two of them, Liu and Cuban world record-holder Dayron Robles, will be in London.
Reigning outdoor world champion Jason Richardson was second in 12.98, with Jeffrey Porter third in 13.08 to take the final London spot on offer.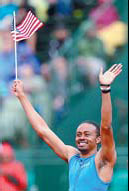 "I learned I'm capable of doing whatever it takes whenever it counts," Richardson said.
"I had a little problem in the middle of the race. It was at that moment that the measure of a man was made. I wasn't going to let this dream slip through my hands."
David Oliver, third at the 2008 Olympics, failed to reach London, finishing fifth in 13.17.
Richardson, who has not cut his dreadlocks in seven years, became the 13th man to break 13 sec in the event when he ran 12.98 in a semifinal heat.
"I felt the effort (in the final that) I put in in the semifinal," Richardson said.
Merritt became the 14th to crack the barrier in the final, an effort he credited in part to his work on his steps and timing in the indoor season.
"Indoors gave me a tremendous confidence boost," he said. "I was able to go from indoors and build from there."
Porter dedicated the effort to his late father, John Porter, whom he last saw alive at the 2008 Olympic trials.
"It was his dream, my race and our victory," Porter said. "I'm proud to be racing for Team USA and for him."