Hong Kong retains edge in the region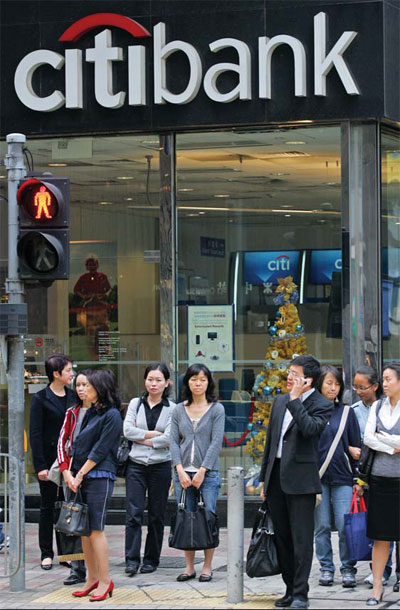 A Citibank branch in Hong Kong's central business district. Edmond Tang / China Daily
City ranks alongside singapore, tokyo as global financial center
Look at any survey on global financial or business centers and you will find Hong Kong, Singapore and Tokyo along with New York and London among the top 10.
"Each one has its own unique set of characteristics," says Doug Ferguson, partner in charge of KPMG's Australia China practice.
Hong Kong Special Administrative Region, with its low tax, legal structure, yuan offshore services and ease of doing business, has become the listing center for Chinese companies.
Tokyo, despite its low growth and being pushed into third place by China in terms of the size of its economy, is still home to some of the world's biggest banks and corporations. Singapore, for its part, sits just behind Switzerland as the world's second-largest global wealth management and private banking center.
A report prepared by the City of London on the challenges posed by Asian financial centers says the "international center of gravity is moving towards Asia".
In the 15 years since the return, Hong Kong has not only maintained its competitive edge as Asia's leading financial center; it has, for the first time, eclipsed global giants UK and US in the World Economic Forum's Financial Development Report.
In survey after survey, Hong Kong, Singapore and Tokyo are never out of the world's top 10 centers for business and finance.
In the latest Global Financial Centres Index published this year, Asia had five cities in the top 10: Hong Kong, Singapore and Tokyo with Shanghai eighth and Seoul ninth.
In the Economist Intelligence Unit's recent Global City Competitiveness Index, Asia had three cities in the top 10 most competitive global cities in the world.
Singapore was third followed by Hong Kong in fourth place while Tokyo was placed eighth.
According to the EIU, since competitiveness is a "holistic concept", the findings went beyond economic strength, financial maturity and physical capital. Five other factors - institutional effectiveness; social and cultural character; human capital; environmental and natural hazards; and global appeal - were also taken into consideration for the overall ranking.
Between them, Hong Kong, London and New York control around 70 percent of the world's equity trading, according to GFCI.
Joseph Cheng, a political scientist with City University of Hong Kong, says the rise of China and subsequent growth in Asia has benefited all three Asian financial centers of Hong Kong, Singapore and Tokyo.
"I don't think anyone could deny that," he says. "Hong Kong, with its excellent legal and professional services, has probably been the biggest beneficiary while Tokyo still maintains strong economic ties to the region.
"Singapore has done well from China's boom but it has not been easy as it lacks that enormous economic hinterland (the Chinese mainland) which has been Hong Kong's distinct advantage."
Cheng adds that no one should underestimate Shanghai when they talk about financial centers.
"In a few years it has become a significant financial center for China and it will continue to grow," he says.
Earlier this year, China's economic planning agency outlined plans for turning Shanghai into a global center for yuan trading, clearing and pricing by 2015. This is part of a broader aim to make the city a full-fledged international financial center by 2020.
K. C. Chan, Hong Kong's secretary for financial services and the treasury, was recently quoted as saying: "We are working very hard to maintain Hong Kong's competitive advantages and increase its capital markets. In the future years, developing Hong Kong's yuan business will give our financial center an additional boost."
KPMG's Ferguson says that since the handover, "the central government has confirmed Hong Kong's position as a leading international financial center and a safe place to do business".
He says China and Japan - the second- and third-largest economies in the world in terms of their gross domestic product - are a "massive pull for investor capital".
"While Hong Kong is seen as the center for Chinese IPOs, it is also attracting mining companies from places such as Mongolia and Kazakhstan wanting to raise capital," he says.
"The point is investors are comfortable. It is a well-established financial and business center with a long history.
"It has credibility in terms of its regulatory infrastructure and hosts all the major international banks. It has rule of law, low personal and corporate tax and no capital gains tax. All these add to Hong Kong's attractiveness."
He says with the economic problems in Europe and the US, there has been a "huge" movement of capital by hedge funds and funds management into Asia.
Ferguson says another sign of Hong Kong's growing success since the return has been the number of European and US law firms setting up in the special administrative region.
"Evidence of that is the vacancy rate for A-grade commercial office space in Hong Kong, which is less than 2 percent," he says.
Tokyo is still an important financial center and Japan still has some of the world's biggest banks and corporations, he says.
"It is still a very high turnover/volume market, so there is still a strong reason for being there. The Tokyo exchange may not be as international as that of Hong Kong but it is still a powerhouse that cannot be ignored ... It is part of the establishment."
Singapore, he says, has had to fight very hard to establish itself as a competitor to Hong Kong.
"Singapore has achieved great success in certain industries such as property, transportation and high-tech manufacturing. And it has followed Hong Kong with low tax rates, low levels of regulatory oversight and a listing process that is quite simple."
He adds that Singapore is a market that has captured mature investors and is fast becoming the city of choice for executives and their families.
"Hong Kong has traditionally been the destination for people coming out of Europe and the US but the place is full," Ferguson says. "From an infrastructure and lifestyle perspective, a lot of executives are now choosing Singapore above Hong Kong, as it is well serviced with decent schools and housing."
Khoo Teng Chye, executive director of Singapore's Centre for Liveable Cities, a government think tank, says fundamental to the country's competitiveness is its "openness to the rest of the world".
"We have always been a hub open to the flow of people, ideas, capital, goods and services," he adds.
The City of London report on the future of Asian financial centers, however, points out a number of structural constraints Singapore confronts to its development as a leading financial center.
"Most obviously, it lacks an immediate hinterland that can provide a firm base for the future expansion of its financial services sector," the report says.
"Where Hong Kong is able to orient to the burgeoning needs of the Chinese economy and Tokyo to those of Japan's huge domestic market, Singapore has no such hinterland of its own."
It notes that to address this, the island state has sought to leverage its competitive advantage over other financial centers, such as Mumbai, to service the growing demand for international financial services in India.
"However, it is not clear that this is a sustainable strategy over the longer term as Mumbai seeks to assert itself as the pre-eminent financial center serving the domestic and international needs of the Indian economy," it concludes.
Contact the writer at karlwilson@chinadailyapac.com