Roadmap for long-term corporate social responsibility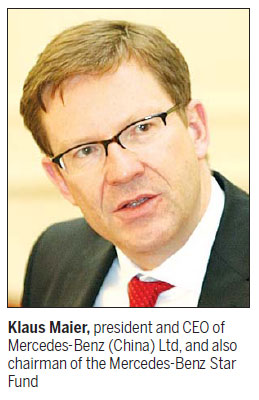 Q+A: Klaus Maier
As head of a leading automotive company committed to fulfilling its social responsibilities, Klaus Maier, president and CEO of Mercedes-Benz (China) Ltd, says he believes that it's a duty of the company to make a difference in the lives of the less fortunate and contribute to sustainable social causes.
Maier, the first Mercedes-Benz CEO to act as the chairman of the company's charity fund, has a deep passion for the many causes supported by the Mercedes-Benz Star Fund. He said he has been touched countless times by heartwarming encounters with children whose lives have been uplifted by music.
For two years, Mercedes-Benz China has been running its Star Fund charity to aid in environmental protection, music, arts, sports, education, the culture of driving and disaster relief - all with the strong support from its dealers, customers, employees and community volunteers.
Following the recent announcement of an additional 25 million yuan ($3.9 million) in funding for the effort, Maier shared his insights on the company's corporate social responsibility program and how it is an integral part of its strategy.
What have been the main highlights of the Mercedes-Benz Star Fund over the past year?
Throughout Mercedes-Benz's 126 years of history, responsibility has been a core value for our corporation. Our responsibility lies not only in ensuring the safety of our drivers and the well-being of our environment, but also towards the overall development of society.
We are very pleased that as we reach the second anniversary of the Star Fund this year - we have more reasons to celebrate the milestone.
Over the past year we have seen an upgrade in our CSR program as exemplified by significant developments in existing programs, as well as the introduction of promising new ones, thanks to the support we have received from our dealers, NGO partners, employees, and the public.
This month, we are celebrating Children's Day with the rest of the world by holding our Mercedes-Benz Project Hope Music Gala. With this event, we want to further stress the importance of an all-round education in the lives of all children.
The music gala is an important step in our Happy Music Classroom Program, as it serves as a platform to help boost the confidence and uplift the spirits of underprivileged Hope School children. It is our hope that such an activity, combined with the 125 music classrooms and two Music Education Star Bases that we have built, will help the kids pursue their musical dreams.
Also in line with our efforts to promote a safe culture of driving in China, at the end of last year we published the Blue Book of China Auto Society together with the Social Science Academic Press of the Chinese Academy of Social Sciences.
Presenting analyses on China's auto society by addressing issues using both macro and micro perspectives, the Blue Book is an important achievement in Mercedes-Benz's quest to inculcate a positive driving culture in China.
This year, another initiative that I am very excited about is the MobileKids Children's Road Safety Education Program. With its decade-long track record of educating children all over the world on road safety, MobileKids is a project that I am very passionate about. After launching the program in Beijing with the first MobileKids Experience Center in China, we are geared up to roll out the program to other cities.
As chairman of the Star Fund, what direction do you want the fund to take? How does this fit into your overall business strategy?
To us at Mercedes-Benz fulfilling our corporate social responsibility is not a window-dressing tactic in an attempt to boost sales. It is a key part of our corporate values to give back to and grow with the communities we operate in. As chairman of the Star Fund, I have three key priorities for Mercedes-Benz's CSR program: achieving the sustainability of our initiatives, attaining measurable results, and getting as many people as possible involved in our CSR initiatives.
To tackle the sustainable development of the Star Fund, we have established our Star Ambassador Volunteer Program and Star Base Program, both designed to inject an unending stream of vitality into the Star Fund.
Of course, achieving quantifiable results are vital for us to assess the efficacy of our CSR program.Each of our projects has targeted results that can be measured carefully - from the 125 music classrooms that we have donated and the 40,000 children that have benefited from our Happy Music Classroom Program, to the seven World Heritage Sites covering about 15,000 sq km. across China, with over 20 protection projects in place that have received our financial support, to the 100,000 people who pledged in our "This, I Promise" campaign, as well as the 300,000 people who have experienced outstanding music and performing arts at the National Center for Performing Arts through our Weekend Concert Series - all these and many more are signs that we have achieved what we set out to do.
As a critical means to strengthen the impact of our initiatives, it is also necessary to gain the backing of our stakeholders - from our dealers, program partners, employees, and the public. We continue to be amazed by the overwhelming support that many like-minded organizations and individuals have extended to our CSR initiatives, and we look forward to continuing to work with them in the future.
Furthermore, as the Mercedes-Benz Star Fund celebrates another milestone this year, we are happy to inject another 25 million yuan to further develop the projects under the Star Fund, after pledging an initial amount of 30 million yuan in 2010. This is a demonstration of our long-term commitment to the China market - not just for the current generation, but also the generations to come.
As the Star Fund celebrates its second anniversary, do you think it has achieved what it set out to do?
Over the past two years, we have laid down solid groundwork for a sustainable CSR program and we are very pleased with the positive program outcomes we have achieved together with our NGO partners, dealers and other supporters.
We believe that we are on the right track toward achieving our CSR goals in a sustainable manner.
Indeed, we have already embarked on a journey of inspiration and advocacy in a bid to nurture a variety of social causes - but this journey is not about to end, as we fully intend to continue to improve and enhance our CSR programs sustainability.
One of our key initiatives this year is our Happy Music Classroom Program. We aim to equip another 175 music classrooms in Hope Schools to effectively expand our current beneficiary reach to 100,000 children across China.
We also plan to hold more professional teacher training courses to ensure that a high standard of education is maintained in these schools. Of course, in line with our sustainability efforts, we will establish six more Music Education Star Bases in various provinces by 2012 to add to the ones we currently have in Heilongjiang and Hubei.
The Music Education Star Base is a long-term cooperation between Mercedes-Benz and selected Normal Universities, and would serve as regional hubs where volunteers can gather to reach out to Hope Schools in nearby communities to provide professional, regular and targeted training to the Hope School teachers. It would not only expand Mercedes-Benz's volunteer resources in supporting the teacher training, but also explore another way of promoting the sustainable development of Happy Music Classroom Program.
Our recently launched MobileKids children's road safety education program will also see the introduction of road safety lessons in schools, as well as bringing such knowledge into the lives of children in a more interactive way through the establishment of more MobileKids Star Bases in key Chinese cities.
This year we are also set to expand our Green Legacy program by pledging our support for the preservation and protection of another UNESCO World Heritage Site later this year. It will be the seventh World Heritage Site in China that will receive our support.
The next Mercedes-Benz CSR forum will be organized at the end of the year to once again bring together industry experts, NGO partners and the media for a discussion on how to further elevate our social responsibility efforts for the good of society.