Red Cross Society hopes to finally heal its reputation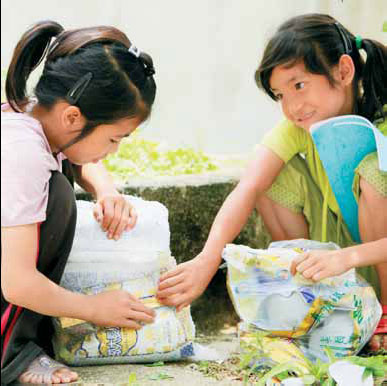 The Red Cross Society in Rong'an county in Guangxi Zhuang autonomous region donated milk powder for 1,400 children in the region's mountain villages in this 2010 photo. [Tan Kaixing / for China Daily]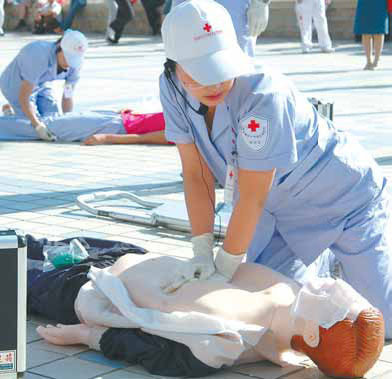 A team of doctors from the Red Cross Society of Hebei province undertaking an emergency rescue drill. Provided to China Daily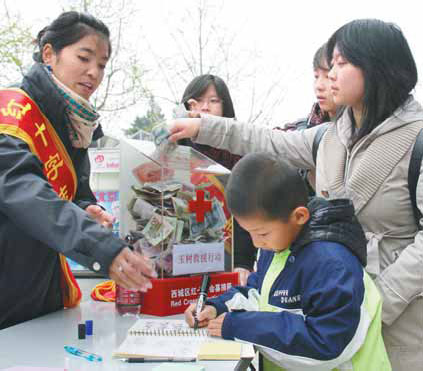 Beijing residents donate money at a Red Cross stand in Xidan for people in Yushu, Qinghai province, three days after the area was hit by a 7.1-magnitude earthquake on April 14, 2010. [Sang Quanli / Xinhua]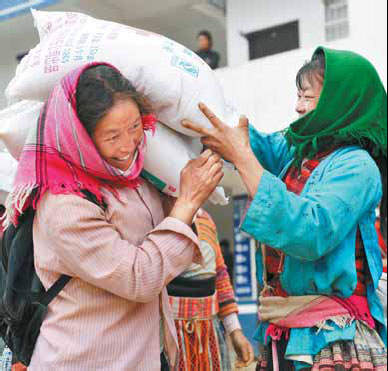 A woman carrying rice provided by the Red Cross Society in Guangxi in April 2010. The society gave 30 metric tons of rice to low-income villagers in Longlin county. Zhou Hua / Xinhua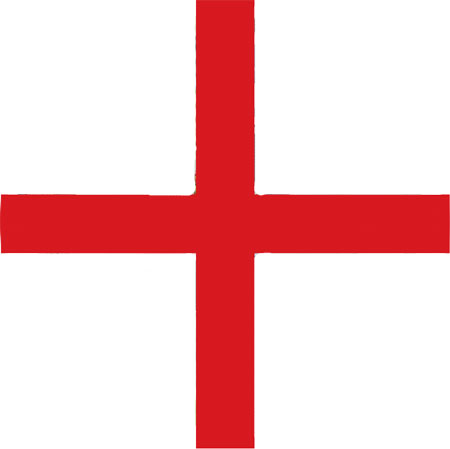 Organization implements reforms following 'lavish lifestyle' claim, reports Shan Juan in Beijing.
After a year in which it has fought to repair its damaged reputation, the Red Cross Society of China is determined to leave the past behind and move on.
After initiating a series of reforms, the organization will become what the people expect it to be, according to Zhao Baige, executive vice-president.
The China Red Cross found itself in the headlines for all the wrong reasons in June when Guo Meimei, who untruthfully claimed to be a Red Cross manager, posted photos online detailing her luxurious lifestyle.
The orange Lamborghini and white Maserati shown in the photos quickly ignited public suspicions of corruption.
"I was shocked that an organization with a history of more than 100 years could almost be wrecked by a 20-something woman in just three days," said Zhao on the sidelines of a Sino-African Red Cross and Red Crescent Forum held in Jiangsu province last week. However, she was adamant that the China Red Cross will survive.
In the opinion of Martin Faller, head of the East Asia Regional Delegation of the International Federation of Red Cross and Red Crescent Societies, the criticism, while unwelcome and unwarranted, may have served a purpose. "The Chinese Red Cross can reflect on itself and ask if it is transparent and mature enough. Do we deliver the right message to people?" he said.
"That's mainly what I've been doing since I began working for the Red Cross last year," said the fast-speaking Zhao.
A 'third way'
"We need to work out exactly what sort of organization the Red Cross is, and then get that message across to the people," said Zhao.
According to the Red Cross Law of the People's Republic of China, enacted in 1993 to provide legal protection to the China Red Cross and its work, the society is a specialist people's organization.
The model is the same as other people's organizations, such as trade unions, the Communist Youth League, and the Women's Federation on the Chinese mainland, according to Wang Rupeng, secretary-general of the China Red Cross.
Public perception of the society seems confused, though, with some people believing it to be a government department, while others think it is a State-run charity.
Zhao was keen to emphasize that the Red Cross belongs to the people, but also serves as a strategic partner of the government in the field of humanitarian aid. "It's multifaceted and a provider of various services that the government can purchase," she explained, while stressing that the China Red Cross must be independent, neutral and transparent.
"For national societies of the Red Cross, the model varies from country to country," said Conrad Sauve, secretary-general and chief executive officer of the Canadian Red Cross. Like Zhao, he emphasized that the organization must maintain its independence to achieve its aims.
"For us, it's more like a company, independent from, but also supportive of, the government, particularly in the field of disaster relief," he said. "I'd like to see China's Red Cross evolve from being similar to a government agency to become an auxiliary to the government," he said, echoing calls from within China for the China Red Cross to move away from its subsidiary relationship with the government and become wholly independent to boost transparency and efficiency.
However, Zhao responded by saying that China cannot simply follow a model founded by others, "We can choose a 'third way' and mature in our own way".
Efforts to evolve
After suffering its first credibility crisis as a result of the Guo Meimei incident, the China Red Cross has learned to become more transparent and to better explain its role to the public that has been given a forum for debate by the rise of online social networks, said Deng Guosheng, who heads the NGO Research Center at Tsinghua University in Beijing.
When the crisis exploded, the China Red Cross began to use its Sina Weibo micro blog to communicate with the public and respond to questions and a large number of negative comments. "We need to listen to public opinion, no matter what," said Zhao.
In a further effort to improve and ensure transparency, the society launched an online platform in July to help the public keep track of donations. "Informing donors about how their money is used is crucial to building trust and a long-term relationship with them," said Sauve. He noted that individuals comprise the biggest donor group for the Canadian Red Cross, accounting for 80 percent of those who give money to the organization. Corporations represent just 10 to 15 percent of all donors.
"We provide a receipt for every donation of more than C$20 Canadian dollars ($20) and report back to donors on how we managed the donation," he said. The organization also releases an annual report on the management and use of donations. To reduce operating costs, donations of less than C$20 are not issued with a receipt. "We have to comply with the management of donations within a certain percentage of cost and the limit in Canada is 20 percent," explained Sauve, who added that the cost of using donations is also included in the annual report.
Foreign trips
According to the China Red Cross' 2011 financial report, at least 58 international trips were made during the course of the year, about one per week, a fact that immediately sparked accusations about the misuse of funds.
Hu Xingdou, a professor of economics at the Beijing Institute of Technology, said the public reaction was understandable, but that the report would help provide greater financial transparency and improved organizational governance.
In addition, to restore its good name and highlight the society's humanitarian spirit, the China Red Cross is taking steps to rectify improper use of its brand.
In June, hospitals across the country will be examined on their use of the Red Cross brand as part of their name, said Zhao. Those that fail to meet the required criteria will not be allowed to use the name.
"Malpractice by hospitals seriously tarnishes the image of the Red Cross," she said, adding that the society will draft new rules on the use of its name by hospitals. Also, all partnerships with corporations will be reviewed.
"Those who just want to make money by using the Red Cross brand will be kicked out," she promised, but stressed the importance of cooperation with the business world.
"China's Red Cross should be an alliance of government, business and civil societies," she said.
According to Sauve, the Canadian Red Cross is very careful about brand management and maintains high ethical standards in fundraising.
Studies showed the role of the brand is of immense significance to a charity's popularity with the public. Does the Red Cross really do the best job in terms of disaster relief? Perhaps, but the brand's reputation provides an easy answer to the question "How can I help?" when disaster strikes suddenly, he explained.
In Canada, "we can hire companies to work for us (in various areas such as fundraising and project implementation) but they are not allowed to work on a commission basis", he said.
"We license the brand as well and enter into partnerships with corporations under certain criteria, such as the rule that we don't associate with companies that manufacture or deal in armaments and things of that nature," he noted, but conceded that management of the system is a challenge.
Back in China, Zhao said the China Red Cross will further strengthen the management and supervision of its local branches.
"Those caught indulging in irregular practices will be exposed and punished," she vowed. But given that the society is not in charge of local branch human resources, operating costs and payrolls, "it will take a great deal of effort and time", conceded Wang Rupeng.
Fresh challenges
In the modern world, non-traditional challenges such as climate change, terrorism, food safety, mass migration and the rising trend of globalization have emerged rapidly and need to be addressed, according to Yves Daccord, director-general of the International Committee of the Red Cross.
Within China, the Red Cross can help with a range of new problems, such as caring for children left behind when their migrant worker parents move away from home, organizing organ donations for those in need of transplants, and the provision of first-aid training, according to Zhao.
Given its fundamental mission to protect humans, "China's Red Cross is more than a charity that simply raises and distributes donations", she said.
To better transform its role and functions to meet these new demands, the society must increase its capacities and make that fact known to the public and the government, she said.
In the past, "our humanitarian work mainly focused on disaster relief and emergency medical aid, but we now have to constantly broaden our horizons and provide more services to better fulfill our mission", she said.
During recent months, the China Red Cross has been recruiting workers to manage projects such as the control of smoking and tobacco, brand management and fund raising. "We are making efforts to become what the Chinese people expect us to be and to be able to do what they need us to do," said Zhao. "I hope the people will see that and give the Red Cross more support, including constructive criticism."
Contact the reporter at shanjuan@chinadaily.com.cn