Joint naval drill 'complete success'
By Zhao Shengnan in Qingdao, Shandong province and Cui Haipei in Beijing | China Daily | Updated: 2012-04-28 08:06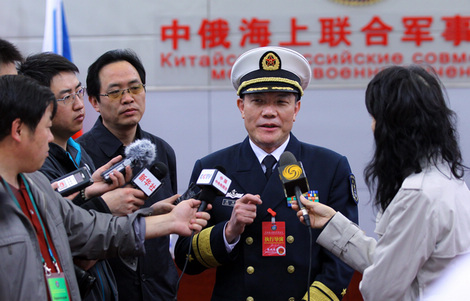 Rear Admiral Duan Zhangxian, deputy chief of staff of the People's Liberation Army Navy, talks to reporters in Qingdao, Shandong province, on Friday. Chinese and Russian navies wrapped up a six-day joint naval exercise on Friday. Zou Hong / China Daily
Chinese, Russian military officials show enthusiasm for closer ties
Chinese and Russian navies announced the conclusion of a six-day joint naval exercise on Friday, with Russian warships departing from a naval base in Qingdao, Shandong province.
The Chinese navy is committed to pursing peace, but is able and willing to safeguard it through warfare if necessary, Rear Admiral Duan Zhangxian, deputy chief of staff of the People's Liberation Army Navy, said on Friday.
"The Chinese navy strives for peace. However, if anyone infringes on the country's peace, we will not be afraid to fight for it," said Duan, who is also the executive director of the Chinese navy for the drill.
The two navies improved mutual understanding, capabilities and confidence during the drill, which added to China's experience in hosting such exercises, said Duan.
A total of 16 vessels and two submarines from the Chinese navy and seven Russian ships, led by the flagship Russian cruiser Varyag, participated in the defense exercises, according to official reports.
The drill focused on joint maritime air defense and the safeguarding of shipping lanes, with exercises involving joint escort, search and rescue operations, anti-submarine tactics and counter-piracy operations.
Vice-Admiral Ding Yiping, China's general director for the joint exercise, described it as a "complete success" and "pioneering". According to preliminary reports, both navies performed excellently during the ammunition drill, which was conducted on Wednesday and Thursday.
China and Russia will continue to expand cooperation and increase efforts to make the naval drill a regular one in future, said Duan, adding that naval officials from both sides show enthusiasm for further collaboration.
Russian Naval Deputy Chief of Staff Rear Admiral Leonid Sukhanov said on Thursday that Russia's navy was willing to explore future cooperation opportunities with its Chinese counterpart, since both countries share a long history of cooperation and exchanges.
The drill is a good opportunity to learn from each other, as the Chinese navy has made significant progress in recent years, said Li Jie, a researcher from the Naval Military Studies Research Institute.
The two navies took concrete steps to increase military transparency through the exercise, said Ren Yuanzhe, a researcher at China Foreign Affairs University.
The Associated Press said that recent technological advances in China have made the country far less dependent on Russian weaponry, while AFP questioned the value China would receive from holding exercises with Russia, given Moscow's diminished military role in the world.
Most of China's weaponry used in the drill was independently developed, but Russia's military technology is still more advanced, said Zhang Junshe, deputy director of the Naval Military Studies Research Institute.
"More importantly, the joint exercise with Russia, China's strategic partner, benefits the maritime interests of both countries, as well as regional peace and stability," he said.
Contact the writers at zhaoshengnan@chinadaily.com.cn and cuihaipei@chinadaily.com.cn