More workers staying near home
China is now home to 158 million migrant workers and their salaries increased by 21.2 percent from 2010 to 2011, according to the National Bureau of Statistics.
A bureau survey looking at Chinese migrant workers showed the country's rural workforce increased by 4.4 percent in 2011 year-on-year. In the same period, the number of migrant workers rose by 3.4 percent while those who chose to work in hometown climbed by 5.9 percent.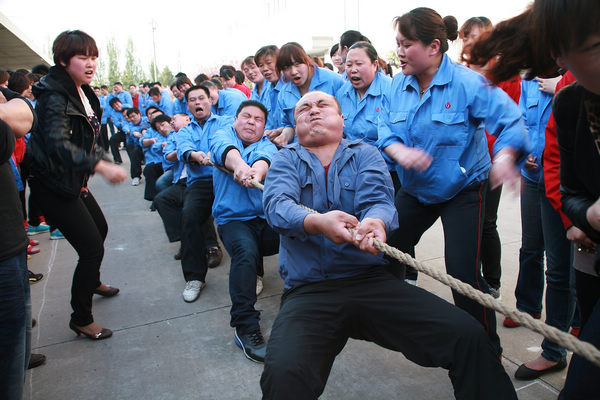 Migrant workers of Jifa Group in Qingdao, Shandong province, have a tug-of-war recently. Liang Xiaopeng / for China Daily
Nearly half of migrant workers, the survey found, still work in the coastal provinces of Guangdong, Zhejiang, Jiangsu and Shandong. But the two biggest manufacturing centers in the country, the Pearl River and Yangtze River deltas, saw their workforces grow at a slower pace in 2011 than the year before.
As the central and western parts of the country develop and the wages paid in coastal and inland areas become more comfortable, the deltas have begun to lose their appeal to many workers, the survey said.
The poll interviewed nearly 200,000 rural workers in 31 provinces. It found rural workers who chose in 2011 to work in their home provinces outnumbered for the first time in years those who went elsewhere for employment.
Meanwhile, the proportion of rural workers older than 40 has gone from 30 percent in 2008 to 38.3 percent in 2011. In those three years, the average age of rural workers went from 34 to 36. That indicates there may indeed be a limit to what has previously been called an "unlimited supply" of migrant workers.
Last year, migrants' average monthly salaries increased by 21.2 percent, rising to 2,049 yuan ($324). They worked 8.8 hours a day on average and 25.4 days a month.
More than 84.5 percent reported toiling for more than 44 hours a week - exceeding the legal limit on work time.
Zhang Yi, researcher with the Chinese Academy of Social Sciences' institute of sociology, said employers' recruitment difficulties and inflation have pushed up wages.
Even so, migrants have seen no increase in their real incomes because they are also having to pay more in cities for food, rent and transport.
Zhang said workers used to migrate in a single direction but have since taken to going in many directions. He attributed that change to investments the government has made in recent years into the country's central and western regions.
"Migrant workers are still on the bottom income rung in society," he said.
Hu Lantian, founder of the toymaker Shenzhen PP Bear Industry Investment Co, said increasing labor costs are not a great cause of worries for employers.
More concerning is the current shortage of skilled workers, which could undermine company's advantages.
"It's very difficult to find workers who have the abilities needed, which take at least five years of training to give a worker," Hu said.
Contact the writer at wangzhuoqiong@chinadaily.com.cn