Minnows ready to cut teeth in the CFA Cup
Eight soccer minnows will take on the nation's big fish in the 2012 Chinese Football Association (CFA) Cup, which kicks off next month.
The hopeful challengers include four amateur squads, two university line-up, and two from The Vision China Championship. They will debut in the cup and play away against 8 third-tier professional teams in the cup's first round on May 26. Sixteen second flight and Chinese Super League (CSL) teams will join the tournament in the later rounds.
First launched in 1984, the CFA Cup, which was canceled in 2007, restarted last year with 30 professional teams from the first and second divisions. Under a new rule, CFA Cup champion Tianjin Teda was rewarded with a berth in this year's AFC Champions League.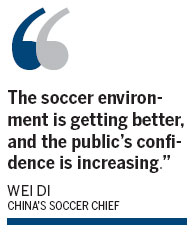 To boost the sport's popularity and offer more players opportunities to compete against the top teams, the well-performed third-tier teams and other semi or non-professional squads were added to this year's tournament, which is sponsored by Japanese company Toshiba and US sportswear brand Nike. Forty-eight teams will play 50 matches in seven rounds from May to November.
CFA vice-president Wei Di said the cup's main aim was to get more people involved in the sport.
"The soccer environment is getting better, and the public's confidence is increasing," Wei said. "Fans started to return to CSL games last year, and the attendance is expected to be higher this season.
"The future of Chinese soccer depends on the popularity of the sport and we hope the CFA Cup will become a platform for soccer enthusiasts and professional athletes to communicate with each other and promote the sport as a game for all," Wei said.
He also said developing soccer on campuses was another way to discover talented players.
"The national university league started more than 10 years ago and there are now more than 400 universities participating in the league each year," Wei said. "Universities can offer talented youngsters the chance to hone their soccer skills while studying and, maybe, some of them will play professionally after graduating, which is the norm in some other countries."
tangzhe@chinadaily.com.cn