Rubio out for season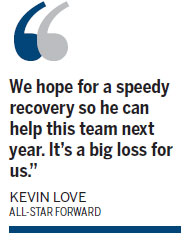 ACL tear shortens Spanish guard's NBA debut, ends Olympic dream
Ricky Rubio's sensational rookie season has come to a devastatingly abrupt end.
The Minnesota Timberwolves point guard will miss the rest of the season with a torn ACL in his left knee, the team announced on Saturday. Now the upstart Wolves will have to keep chasing a playoff berth without the flashy, fiery leader of the franchise's resurgence.
"It's a big emotional shock," All-Star forward Kevin Love said. "He makes winning plays, he's a winner. We love having him around on and off the court. We hope for a speedy recovery so he can help this team next year. It's a big loss for us."
It also means Rubio will miss the upcoming Olympics, where he was expected to be a vital part of Spain's bid for the gold medal.
"All my support to my big friend and teammate (at)rickyrubio9," tweeted Toronto Raptors guard and fellow Spainiard Jose Calderon. "Hard news about his knee. He'll be back stronger."
Rubio went down in the closing seconds of a loss to the Los Angeles Lakers on Friday night, when his knee buckled as he tried to help out on defense against Kobe Bryant. An MRI on Saturday confirmed everyone's fears, and there were plenty of long faces before the Wolves hosted the New Orleans Hornets.
"It's just too bad," coach Rick Adelman said. "He was having such a great year, he had such a great influence on our team and the way our team was playing and I think the league. It's too bad any time you see a young player go down like that with an injury like that. You feel for him more than anyone else."
The first game without him wasn't a good sign. The Wolves committed 17 turnovers and lost 95-89 to the lowly Hornets (10-31).
A date for surgery has not yet been set, but team president David Kahn said he expected Rubio to be back for the start of next season.
"His work ethic knows no bounds," Kahn said. "If ever there was a player that was ticketed to have not just a full recovery but to come back better than ever, stronger, it's Ricky Rubio."
Rubio was not at Target Center on Saturday night, but tweeted several messages of thanks and encouragement for his teammates.
"Thank you everybody for ur support," Rubio tweeted. "I promise I will be back soon and stronger. There is only one way to take: move forward and stay positive."
In his first season after coming from Spain, the 21-year-old was averaging 10.6 points and 8.2 assists, but his impact has been so much greater than his numbers.
The floppy-haired, irrepressible young point guard changed the dynamic of a rebuilding team almost from the moment he set foot in Minnesota. His flashy, unselfish play galvanized his teammates, and his fun-loving nature has been an immediate draw at the box office, where the Timberwolves have already sold out seven games this season, their most since 2006-07.
Chants of "Ole! Ole, ole, ole!" have filled the building, which just last year was half empty almost every night as the Wolves sunk to the bottom of the league.
He's one of the most popular players in a tight-knit locker room and has helped forge chemistry with the team that has paid dividends through the first 41 games this season.