Overseas contract values rise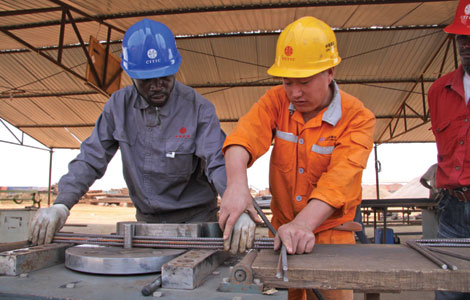 Chinese workers train their Angolan colleagues to roll steel at a CITIC Construction Co Ltd worksite in Luanda, the capital city of Angola. Officials say the development of Chinese construction contractors in Africa will continue in the coming years. [Mu Changchun / Xinhua News Agency]
Chinese firms are looking to regain their growth momentum in Africa
BEIJING - The rising value of new contracts signed by Chinese companies in Africa is aiding the recovery of Chinese offshore construction contractors. Many suffered large losses in the political turbulence that affected North Africa and the Middle East last year.
Africa has long been a major overseas destination for Chinese construction contractors. That has been reflected in increases of more than 30 percent every year since 2006 in both the value of contracts and revenues of Chinese companies operating on the continent.
The uncertain geopolitical scenarios in North Africa and the Middle East at the beginning of 2011 resulted in business stagnating for many Chinese enterprises in those regions.
According to the China International Contractors Association, the value of newly signed contracts in Africa in the first half of 2011 declined 22 percent year-on-year to $15.28 billion.
However, some Chinese construction companies have reported positive performances in those African markets that experienced political turbulence, but are still offering new opportunities.
"We witnessed annual business growth of between 10 and 20 percent in the African market in 2011, although some contracts in North Africa were postponed because of political instability in the first half of last year," said Wang Xiaoguang, director-general at the overseas department of China Communications Construction Co Ltd, on Tuesday. Wang added that the company will maintain its growth momentum in Africa this year.
As one of the largest State-owned infrastructure enterprises by revenue, China Communications Construction has undertaken more than 150 projects in 25 African countries since it first entered the market more than 30 years ago. Wang said the next plan is to expand the scale of business in the region.
"The move by Chinese construction contractors to develop in their established markets such as Africa will not stop in the coming years. And reconstruction efforts in the wake of civil unrest will definitely provide Chinese companies with more business opportunities," said Zhang Xiang, a spokeswoman for the contractors association.
"This year, the businesses of Chinese contractors in Africa will grow rapidly, with transportation and real estate projects continuing to be the market high points," Zhang added.
The value of contracts signed in the African markets reached $45.77 billion in 2011, a year-on-year increase of 19 percent, fueled by the booming markets in Angola and Algeria, according to the association's data.
CITIC Construction Co Ltd, which focuses on the Angolan and Algerian markets, registered revenue growth of between 5 and 10 percent in Africa last year.
Ma Chuanfu, the vice-president, said the company will continue to expand its business in real-estate and agriculture in those countries this year.
According to the contractors association, Chinese companies signed construction contracts worth $4.4 billion in Angola and $6.4 billion in Algeria last year. The Angolan market accounted for 10 percent of the total value of the contracts, while business in Algeria generated 14 percent.
Ma added that CITIC Construction will also promote the safety awareness of employees and alleviate risks when developing in unstable markets in the future.
The contractors association said it will take some time for Chinese companies' business to fully recover in markets that experienced political turmoil last year. Risk control has now become the most important factor for companies eager to submit successful bids in these markets.
"Meanwhile, Chinese companies will accelerate the localization of both operations and human resources in Africa in a move to promote management efficiency and reduce risks," said Zhang.
China Daily