Here Comes Santa Claus
Updated: 2011-12-25 07:45
By Eric Jou (China Daily)
| | | | | | | | | | | |
| --- | --- | --- | --- | --- | --- | --- | --- | --- | --- | --- |
|   | | Comments() | | Print | | Mail | | Large Medium  Small | 分享按钮 | 0 |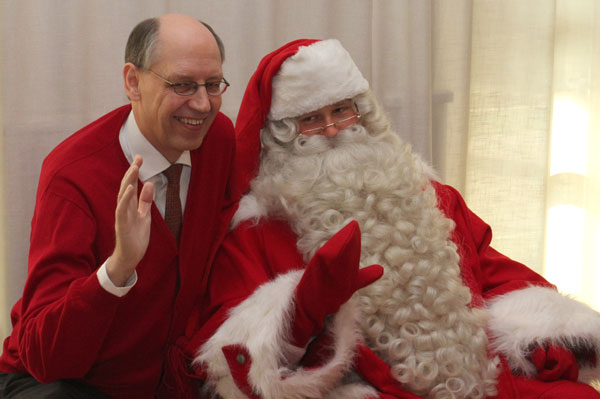 Finnish Ambassador, Lars Backstrom (left), takes a picture with Santa Claus after he touched down in Beijing as part of a tour across China. Jiang Dong / China Daily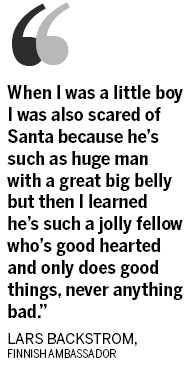 Who better to profile on Christmas Day than everybody's favorite old man riding the reindeer sleigh guided by an animal with a glowing red nose? Eric Jou with an exclusive interview.
His beard is iconic, his red robe and green pants are symbolic, his jovial laugh is titanic, he is the one and only Father Christmas, Santa Claus and he is making his presence felt in Beijing. Santa Claus, also known as Saint Nicolas, Kris Kringle, or just simply Santa, touched down in Beijing decked out in his Christmas best at the Finnish Ambassador's residence on Tuesday as part of a tour across China before his big night, Christmas Eve. Presented to a crowd of media by the Finnish ambassador Lars Backstrom at the ambassador's residence, Santa Claus says he is delighted to be in Beijing.
"I'm very happy to be here, I'm very happy to be here with the Finnish embassy," he says.
Perhaps one of the most iconic symbols of the West, Santa is a bringer of joy and good cheer. He drops down chimney's to hide presents under Christmas trees for the good boys and girls and he's been doing it for a very, very long time.
Santa, who is "too old to remember his age", says he has been coming to China every year visiting the children who have been behaving well; and he says Chinese children are among the most "well behaved".
The modern day image of Santa Claus that is most well known is the jolly, red-cheeked Father Christmas in the 1930's Coca-Cola advertising campaign, but the Santa tradition and history can be traced as far back into the fourth century.
To Finland, Santa Claus is much more than a tradition, it is a point of national pride.
The country lays claim as the location of Santa's home and workshop and in Rovaniemi, Finland, there are two Santa theme parks - Santa Claus Village, and Santa Park.
To ambassador Backstrom and his wife, having Santa Claus pay them a visit was a delight especially since it's Santa's busiest time of the year.
"I feel very happy, this is an opportunity that only happens once in a blue moon," says Backstrom, beaming with joy. "To have the real jolly man to visit your own home, it's something you only dream about."
Ambassador Backstrom admits that at one point in his life, he had actually been afraid of Santa Claus, and it was to dispel the common misconceptions that the Finnish embassy invited Santa to the ambassador's residence in Beijing to help show Chinese children that Santa is a jolly old man and that there's nothing to be afraid of.
"If you were a little boy or girl and you have never seen someone with such a huge beard and great looking clothes you might be a little afraid, it's important that all the children get to see what Santa looks like before they see him in person," says Backstrom.
"When I was a little boy I was also scared of Santa because he's such as huge man with a great big belly but then I learned he's such a jolly fellow who's good hearted and only does good things, never anything bad."
Taking time out of his busy schedule to speak in Beijing, Santa simply says that the way he is able to visit all children in the world is by Magic.
"Christmas night is magic night, everything can happen."
And if there are those who questions the myth and skeptical over his existence and motivation, Santa just shrugs it off with his usual good humor.
"It is my honor and pleasure to be a person who gives gifts and spreads joy all over the world," he says. "That's why I became Santa."
You can contact the writer at ericjou@chinadaily.com.cn.