Young Chinese players to join top Spanish clubs
BEIJING - Ninety young Chinese, aged 12 and 13, will join the youth teams of Spanish La Liga clubs Atletico Madrid, Valencia and Villarreal for three years, the Chinese Football Association (CFA) and local company Dalian Wanda announced in Beijing on Sunday.
The program is part of CFA's multi-million dollar deal with Wanda, which was reached in July, in which the company signed on to inject 500 million yuan ($77.3 million) over three years to boost the sport in China, including 120 million yuan to be used as part of the CFA's "Future Star" overseas program.
The company stated it would add another 80 million yuan to the youth project and increase the number of young players heading to Spain from 60 to 90 at Sunday's press conference. Yin Hai, vice-president of Dalian Wanda Group, also said the company would renew the contract for another three years if the program reached certain targets in the first three years.
According to Wanda's contract, with the three Spanish clubs, all the Chinese players will treated the same as their Spanish teammates in terms of training, accommodation, medical treatment and insurance.
The application process will be open to children born between Jan1, 1999, and Dec 31, 2000, from Jan 4 next year. The selection will be started in 15 cities, including Beijing, Shanghai, Guangzhou, Dalian and Chengdu, from March to April, and the recipients will be chosen by 21 foreign experts from the three clubs.
The first 30 players selected will head to Spain before the opening of 2012-2013 season, and they will play at least 25 age-group matches each year.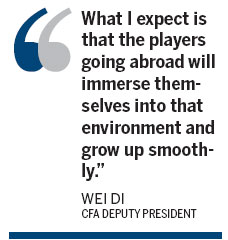 "Spanish soccer has long tradition and glorious achievements, which is a combination of many factors, but their world-class youth system is very crucial," said CFA deputy president Wei Di.
"All three clubs are traditional powerhouses in La Liga, and it's a very precious opportunity for Chinese teenagers to play in the youth teams of these clubs. The program will also help Chinese to learn advanced experience in youth training from Spain and enhance the friendship between Chinese and Spanish soccer," Wei said.
Besides the cooperation with Wanda, the CFA has already sent dozens of youngsters to Brazil and Portugal, and also sealed agreements with French club Le Mans and English Premier League side Liverpool.
Wei said the most important task for the CFA was to build up the country's own youth development system, but the overseas programs also helped attract more children to the sport.
"It's hard to say how many good players we will get through the program, and how much contribution the players will make at World Cups in the future," Wei said.
"What I expect is that the players going abroad will immerse themselves into that environment and grow up smoothly. Meanwhile, the program should also attract more children to play soccer.
"I won't rest my hopes on Chinese soccer returning to the top flight of Asia in five years. Instead, I hope we will build up the foundation of China's youth development in five years and have more kids in the game," Wei said.