Sinosure sees rising EU risk as debt crisis persists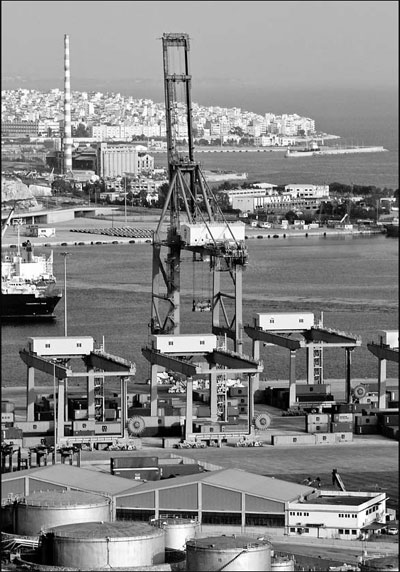 Piraeus Port in Athens, Greece. According to Han Jiaping, director of the credit management department at the research institute of the Ministry of Commerce, Chinese companies had reported cumulative overdue accounts of more than $100 billion by the end of March. Kostas Tsironis / Bloomberg
BEIJING - The China Export & Credit Insurance Corp (Sinosure), the only export and credit insurer in China, experienced a rapid increase in claims from enterprises trading with the European Union (EU) region this year as the sovereign debt crisis deepened, top company officials said on Thursday.
"Trading risks from Western European countries such as Greece, Ireland, Portugal, Spain and Italy have seen an evident increase," said Xie Zhibin, assistant president of Sinosure.
Sinosure's risk-analysis report looked at 192 countries, excluding China. Of those, 29 countries, or 15.1 percent, were downgraded because of growing trading risks, while 36 countries, or 18.8 percent, were upgraded.
It was the company's seventh risk report, aimed at helping Chinese companies to better hedge the risks of doing business overseas.
Though global trading risks remained stable in 2011, the EU crisis, the slowdown in the global economy and regional conflicts led to downgrades in certain areas, such as in some countries in Western Europe and North Africa.
As of Nov 30, Sinosure had received claims from 29 companies for losses in Libya, and the insurer paid 500 million yuan ($78.6 million) to settle those claims.
Sinosure's claims payments for 2011 "will be no less than what we paid in 2009" during the global financial crisis, said Zhou Ji'an, deputy general manager.
"Moreover, about one-third of the claims involve developed countries such as the US and UK."
Though Sinosure retained its risk rating for the US this year, Zhou said potential trading risks in the US are climbing fast as the world's largest economy is set to slow down further next year.
"The number of claims - and the value involved - we received from Chinese enterprises trading with the US have rebounded this year," said Xie. He said the company would keep a close watch on US financial institutions' exposure to EU sovereign debt.
According to Han Jiaping, director of the credit management department at the research institute of the Ministry of Commerce, Chinese companies had reported cumulative overdue accounts of more than $100 billion as of the end of March.
The figure is expected to grow by $15 billion annually.
The research institute has said that the high credit risks found in markets where Chinese companies have traditionally faced bad debts have spread to previously low-risk countries, including Germany, the UK and Japan.
A number of countries in Asia and Latin America, however, saw a credit improvement, according to Sinosure's report.