Ducks stealing Flying Tigers' thunder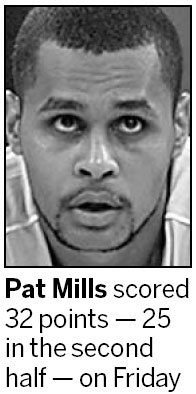 BEIJING - This was supposed to be the Xinjiang Flying Tigers' season.
The season they stopped coming up just short.
The season they got some breaks.
The season they finally won a CBA title.
Who knows, it might still be.
But after Friday night, it's hard to argue this isn't the Beijing Ducks' season to lose.
Xinjiang fought back from a 20-point fourth-quarter deficit, making a 99-97 loss to undefeated Beijing at sold-out Shougang Stadium all the more excruciating.
"As I told you before, it's the same thing - I think Beijing is really rolling right now," Xinjiang coach Bob Donewald said. "I thought we were really just playing not to lose instead of playing like our normal confident selves."
Xinjiang, the runner-up for the CBA title three years in a row, took aggressive steps forward in the offseason. Donewald, coach of the Chinese national team, was hired. So too was former NBA No 1 draft pick Kenyon Martin.
But even before the season began, things appeared to be falling apart. Last season's leading scorer, Quincy Douby, suffered a serious wrist injury in an exhibition game a week before the opener.
The Flying Tigers were left scrambling to find a foreign player to replace him.
They appear to have struck pay-dirt, unearthing Australian guard Pat Mills, who spent the past two seasons with the Portland Trail Blazers.
It was Mills who almost single-handedly dug Xinjiang out of the hole it was in Friday.
With Beijing up 90-70 with 10 minutes left, the crowd had begun eyeing the exits. Thirty seconds later, the game looked sealed and the Ducks pulled star guard Stephon Marbury.
Then some shots started falling.
Then Marbury came back in.
Then Mills caught fire.
He poured in 15 points over the final 6:49 - jump shots on the run, layups in traffic, and finally the 3-pointer that gave the Tigers their first lead of the game, 97-96, with 1:18 left.
By the time that 3 went in, the crowd - militantly in Beijing's corner most of the night - suddenly found itself cheering boisterously for Mills.
"I look at is as an exciting game to play in, to be a part of something so big like this," Mills said. "It was fun to play in - obviously there's a lot for me to learn, as well as the team, but overall it's fun and exciting in terms of my development and the team's development over the course of the season."
Mills scored 32 in the loss, 25 coming in the second half.
But there was only so much Mills could do, especially against a balanced Ducks offense that jumped out to a 57-39 halftime lead after a dominant second quarter.
Former NBA player Randolph Morris led with 22 points and 5 rebounds, while Marbury chipped in 18 points and 8 assists in 28 minutes, Chen Lei scored 16 points, and Zhu Yanxi had 13 points and 6 rebounds.
Until Mills caught fire, the game had been shaping up as a showdown between Marbury and Martin, teammates 10 years ago with the New Jersey Nets.
Both held up their end of the bargain - Martin scored 22 and had 11 rebounds, while Marbury hit 3 3-pointers in an electric third quarter that left the crowd chanting "MVP".
Neither Marbury nor Martin was available for comment after the game.
So now, the Ducks find themselves at 6-0, including wins over Guangdong - the league's four-time defending champion - and Xinjiang.
The Tigers are at 2-2, still struggling to get their bearings.
"It's early in the season, and we haven't hit our rhythm yet," Donewald said. "We're very inconsistent still.
"When Douby went down from that hard hit in Shanghai and broke his wrist, we were in a pretty good rhythm. I knew whoever we brought in, it was going to be all eyes on him. But given the difficulties I think Patty's just playing outstanding."
Mengke Bateer chipped in 22 points, nine rebounds and 16 assists for Xinjiang.
China Daily