A fantastic start for me and the Ducks
Exclusive column
Starting a new life in a new country thousands of miles from home has had me on an emotional roller coaster ride of joy and excitement.
So far, I love my new life in Beijing. I am excited about the possibility of my new business venture with the Starbury Brand. But most importantly my heart is filled with love for my new extended family - the billion-plus people in China who have shown me nothing but unconditional love.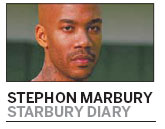 China has given me a new lease on life in ways I could have never imagined. I have been restored by a culture filled with love, compassion and care. Sometimes I want to pinch myself because I think I am dreaming. But reality sets in when I am reminded of how much work I still have to do. "Choose a job that you love and you will never have to work a day in your life." That proverb by Confucius is my take on life today.
No doubt I love playing basketball - dishing and swishing on the court as the starting point guard for the Beijing Ducks. I also love making moves off the court, building the Starbury brand created so the masses can afford quality clothing and shoes. But do you know what I love most? Building bridges between cultures. Basketball is enabling me to do just that. The CBA offers me an opportunity to learn about my teammates and other players different from me.
The CBA recently tipped off a new season with much hype, yet a calmness that is totally different from the hype of the NBA. To me, pre-game hype is just that - hype. Putting "W's" in the win column is most important. That's what we hope to do all season. Fortunately, our gameplan went as we hoped on opening night at home against Jilin. We beat Jilin, and I played well - 29 points, 7 rebounds, 6 assists. Not bad for the new guy.
That first game was a test because we proved to ourselves we are ready for battle after a tough month of preparation. I mean, I thought I was in great shape from my rigorous workouts in the United States, but six-hour-a-day practices six days a week showed me I was not. But after our first game, I started to feel like I am probably in the best basketball shape of my life. I had to be against our next opponent: Liaoning.
Liaoning has two players who played on the Chinese national team, and one is considered one of the best in the CBA at my position, point guard.
This matchup was nationally televised on CCTV5. Hollywood could not have scripted our battle any better. One of our rookies, Zhao Xiaochuan, stepped up and made a big-time play, tipping in the ball at the buzzer to give us the win by one point. It was a team effort. My stat line was 30 points, 11 rebounds and 1 assist.
Beating Liaoning was the confidence- and momentum-builder we needed to convince us we can knock off the CBA champion, Guangdong. Guangdong is considered a basketball dynasty after winning six of the last seven titles. If we were to upset Guangdong, we would have to do it on national television.
We did just that, beating the champs by 12 points. We all played well. My stat line was 18 points and 8 assists.
We are 4-0, and in first place in the CBA. We are gelling and getting better each game. A dawn of an era is upon us, and right now it is looking real bright.
Love Is Love.