Cisco profit tops estimates on cloud growth
Updated: 2011-11-11 07:37
(China Daily)
| | | | | | | | | | | |
| --- | --- | --- | --- | --- | --- | --- | --- | --- | --- | --- |
|   | | Comments() | | Print | | Mail | | Large Medium  Small | 分享按钮 | 0 |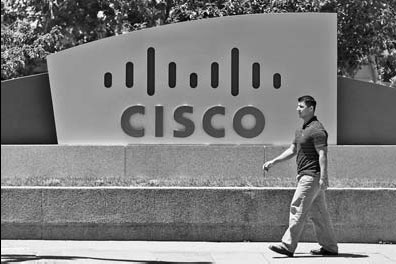 Cisco Systems Inc has market share of 80 percent in the data center segment, which provides services through the Internet. David Paul Morris / Bloomberg
SAN FRANCISCO / NEW YORK - Cisco Systems Inc reported profit and sales that exceeded analysts' estimates, bolstered by a turnaround effort and demand for data centers.
Excluding some costs, earnings were 43 US cents a share in the fiscal first quarter, which ended Oct 29, the company said on Thursday in a statement. Analysts on average had predicted 39 US cents, according to Bloomberg data.
Chief Executive Officer John Chambers is eliminating jobs, scaling back operating expenses and revamping management structure. The company also is refocusing on its main products: switches and routers. The moves are aimed at shoring up gross margin, which narrowed to 61.4 percent in fiscal 2011 from 65.8 percent five years ago.
"It's a far cry from the growth rates for prior years, but this is right in line with the new Cisco," said Colin Gillis, an analyst at BGC Partners LP in New York. "They're controlling their expenses."
Revenue forecast
Sales will grow 7 percent to 8 percent in the current quarter, the company said on a conference call. That equates to $11.14 billion to $11.24 billion, beating the $11.13 billion predicted by analysts. Earnings will be 42 to 44 US cents a share, excluding some costs. The average estimate was 42 US cents.
First-quarter net income fell to $1.78 billion from $1.93 billion a year earlier. Sales rose 4.7 percent to $11.3 billion in the period, compared with an estimate of $11 billion. Cisco's gross margin narrowed to 62.4 percent last quarter, excluding some costs, which beat the average estimate of 61.3 percent.
Cloud demand
The company also is benefiting from demand for cloud services. That's fueling growth in its data-center switching segment, where Cisco has market share of 80 percent, said Brian Modoff, an analyst at Deutsche Bank Securities Inc in San Francisco. Data centers provide access to software and computing power remotely over the Internet, rather than through companies' local systems.
As part of its reorganization, Cisco has backtracked on its consumer efforts this year. The company announced in April that it would close the Flip video-camera business, eliminating 550 jobs. In July, Cisco unveiled a plan to cut about 6,500 employees worldwide and transfer an additional 5,000.
At the same time, the company is focused on router innovation, improving customer service and offering a wider range of products than rivals such as Juniper Networks Inc, Frank Calderoni, Cisco's chief financial officer, said in an interview.
Competition
As technology companies focus on supplying gear for data centers, server manufacturers are competing more directly with network-equipment suppliers. Hewlett-Packard Co (HP), the world's largest computer maker, has taken some business from Cisco this year.
"We are going to be tough on our competitors, whether they're Juniper or HP," Chambers said on Thursday. "It's something I think we were a little too gentle on in the past. We are going to lead in the switching market."
For Cisco to maintain market share over the next three to five years, it also will have to show it can compete with lower-cost providers, including China's Huawei Technologies Co, said Jayson Noland, an analyst at Robert W. Baird & Co in San Francisco. The company risks getting squeezed between those two groups of rivals, Noland said.
Instead of Silicon Valley competitors such as Juniper Networks, Chambers singled out China's Huawei as "our toughest competitor four to five years out".
Huawei competes on price, and has been trying to break into the US market for years. Chambers said his goal is to make things "hard" for Huawei in the United States while tackling them in their home market.
Bloomberg News - AP