Ideas helps Lenovo grow big in Russia
Chinese computer maker Lenovo Group said it plans to become the No 1 PC vendor in Russia in the next three years, as part of its efforts to expand in emerging overseas markets.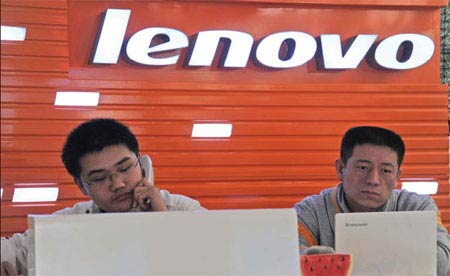 Lenovo is planning to set up a factory in Russia to fuel growth. [Provided to China Daily]
Bai Yuli, director of Lenovo in Russia, says that the company aims to take the prime position in the Russian PC market, overtaking competitors such as Acer Inc and ASUSTeK Computer Inc.
"Russia has huge market potential for us and we have a vision of taking Lenovo to the top spot there before 2013," says Bai.
He says that Lenovo achieved shipment growth of more than 200 percent in Russia in the first half of the year, compared with the average growth of the Russian PC market of about 25 percent.
Lenovo first made its mark in the Russian market through its acquisition of the PC division of IBM Corp in 2005. However, the company did not start serious expansion in the market until 2007, when integration with the acquired division neared completion.
During the past few years, Lenovo has established a local sales channel and has started to target sales to individual consumers, after both the corporate and government business slowed during the global financial crisis.
Last quarter, Lenovo achieved a market share of 9.6 percent in Russia, making it the fifth-ranked PC vendor behind Acer, ASUSTeK, Hewlett-Packard Co and Samsung Co Ltd.
Bai says Lenovo's brand awareness improved in Russia through a series of advertising campaigns such as sponsorship of the Beijing Olympic Games in 2008. The company was little known outside its home country before 2006.
He notes that many of Lenovo's customers are familiar with the IBM "ThinkPad" range and only started trusting Lenovo when they realized that the company is now the name behind those products.
Igor Rovnin, a Lenovo dealer in Moscow, says one sales technique he often uses is to remind customers of the connection between the ThinkPad and Lenovo. "Consumers often look for Thinkpad technology so we will first show them the ThinkPad range, but later I recommend cheaper products from the 'Ideas' range", says Rovnin.
He says ThinkPad products are expensive and aimed at the corporate market, so most consumers will eventually opt to buy the Lenovo brand goods instead.
Rovnin also refutes the notion that the negative connotations associated with the "Made in China" label will have an impact on Lenovo's sales in Russia, noting that "even Apple products are made in China and everyone uses them".
In order to boost its brand awareness in the country, Lenovo set up a huge advertising board near Red Square in Moscow. Bai says many of his Russian colleagues and customers were quite surprised by the move, but the advertising did produce good results.
He says in the first six months of this year, sales of Lenovo's ThinkPad line, which contributed 20 percent of the company's sales in Russia, grew more than 240 percent year-on-year. Lenovo's range of Idea products, which accounted for 80 percent of sales, also grew more than 200 percent year-on-year in Russia.
"In the long term, Russia as an emerging market still has a great potential, because PC penetration rate in the country is still less than 30 percent," says Bai. He adds that Lenovo is also considering establishing its first factory in Russia, as part of its efforts to fuel the company's dynamic growth in the country.
In the second quarter of this year, Lenovo surpassed Acer to become the world's third-largest PC maker with a market share of 12.2 percent, according to the United States-based research company IDC. In August, the company reported global quarterly sales revenue of $5.9 billion for April through June and pretax net profit of $123 million, nearly double that of the same period in 2010.
Bai says the company is also considering introducing its "Lepad" tablet computers in Russia during the global release of the range later this year.