RBS reports first-half loss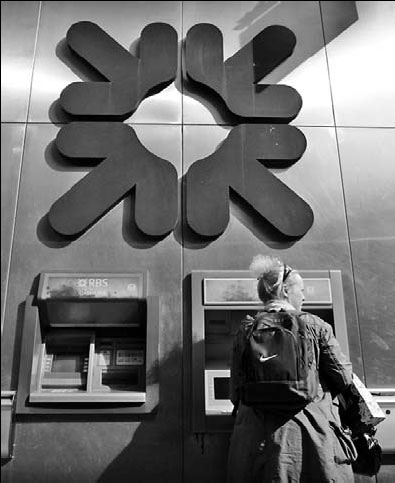 A customer uses a Royal Bank of Scotland Group Plc automated teller machine outside a branch in London. The bank reported a loss in the first half of 2011. Simon Dawson / Bloomberg
LONDON - Royal Bank of Scotland Group Plc (RBS), Britain's biggest government-controlled bank, swung into loss in the first half after writing down the value of its Greek debt and setting aside funds to compensate insurance customers.
The net loss was 1.4 billion pounds ($2.3 billion), compared with a profit of 9 million pounds in the year-earlier period, Edinburgh-based RBS said in a statement on Friday. Analysts had estimated the bank would have a loss of 571 million pounds, according to the median estimate of five surveyed by Bloomberg.
RBS, bailed out by the government after its purchase of ABN Amro Holdings NV in 2007, set aside 850 million pounds to compensate clients who were improperly sold personal-loan insurance. It also followed France's BNP Paribas SA, Credit Agricole SA and Germany's Deutsche Bank AG and wrote down its Greek debt by 733 million pounds after signing the Institute of International Finance's rescue plan last month.
"Greece was the only significant sovereign exposure that we had inherited from ABN Amro among the countries first in the firing line," Chief Executive Officer Stephen Hester told reporters on a call on Friday. "In Ireland and Portugal, although we have commercial positions inside those countries, our sovereign debt position is negligible."
RBS fell 11 percent to 27 pence as of 8:25 am in London trading, the biggest fall in two years. The government paid about 50.2 pence a share for its 82 percent stake in the lender.
Revenue at RBS's securities unit dropped 35 percent to 1.55 billion pounds in the second quarter compared with the first three months of the year. Revenue from the fixed income, currencies and commodities unit tumbled 44 percent to 987 million pounds in the second quarter.
"In fixed income, if you have a crisis around sovereign debt, which clearly spills across all fixed-income markets, particularly the eurozone, you'll see subdued revenues," Hester said.
UBS AG, Credit Suisse Group AG and HSBC Holdings Plc all cut jobs after reporting falls in second-quarter investment banking profit as the continent's sovereign debt crisis hurts trading.
HSBC pledged this week to eliminate 30,000 jobs by 2013, while Credit Suisse said last week that it will eliminate 2,000. European banks have slashed 230,000 jobs since the start of the financial crisis in 2008, according to Bloomberg Industries. RBS has cut 27,500 jobs since Hester took over from former head, Fred Goodwin.
RBS's net loss widened to 897 million pounds in the second quarter from a 528 million-pound loss in the first three months of the year.
RBS follows Lloyds-TSB Bank Plc in posting a loss for the first half. Barclays, Standard Chartered and HSBC all posted a net profit for the first six months. HSBC reported a 36 percent increase in first-half profit on Aug 1. Barclays said profit fell 37 percent to 1.5 billion pounds as investment banking revenue declined.
RBS's core Tier 1 capital ratio, a measure of financial strength, climbed to 11.1 Percent from 10.7 percent at the end of 2010.
Bloomberg News
(China Daily 08/06/2011 page10)