Dining aloft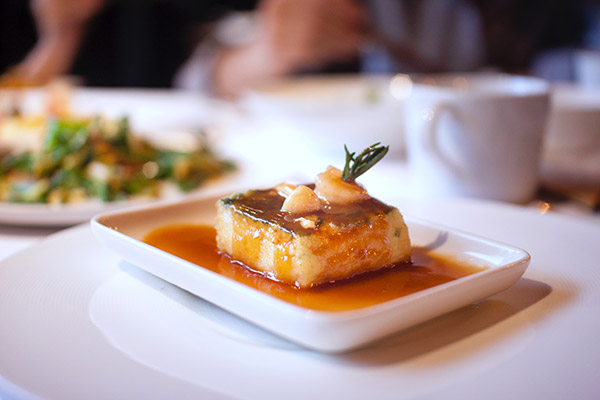 Tofu dish at the Wilds restaurant of Lost Villa.[Photo provided to China Daily]
Almost all the hotels, no matter how small, offer meals, some without a menu like Ringing Heights. What is served depends on what the wet market offers on the day and what grows in the hotel's field.
Lu Hua, the self-taught chef of Ringing Heights, is good at Moganshan-style home cooking, which is quite similar to Shanghai cuisine but less sweet. It emphasizes fresh ingredients.
Her signature stewed lake fish with soybean sauce has a perfect balance of flavor: With the addition of a little local rice wine, the fish wears a special fragrance and is smooth and tender. Lu's chicken soup, without any additional ingredients but chicken and shallots, highlights the flavor of the chicken and features a clean and light taste.
Yucun, now a dining hub in the Moganshan area, offers more variety in drinks and dining. The recently opened boutique hotel, Lost Villa, catches my eye immediately with its simple look. Its restaurant called Wilds presents a luxurious fusion of food. The dining room with huge windows allows guests a panoramic view of mountains in the distance. Its menu features classic dishes from Sichuan cuisine, Cantonese food and local tastes, with food quality, plate setting and service that can compete with most restaurants back in Shanghai. My favorite dish is deep-fried tofu with abalone sauce. The tofu, crispy outside and tender inside wearing its layer of sauce, tastes extremely delicious.