Dining aloft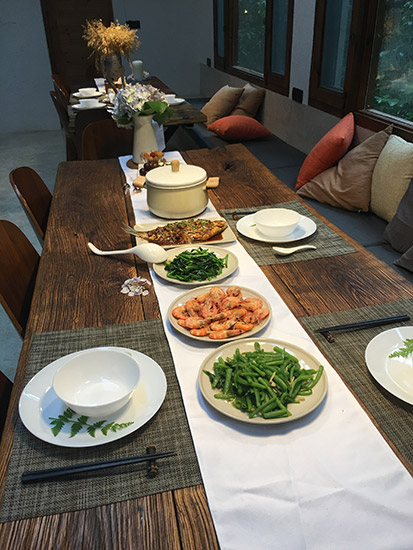 Dinner with local flavor at Ringing Heights.[Photo provided to China Daily]
The couple also grows green vegetables in a small field behind the hotel and makes green-leaf salad with seasonal fruits and tomatoes. Together with a bowl of hot congee, it forms a perfect breakfast for both Chinese and Western diners. What served the congee well: the homemade preserved vegetable that looks oily and black but tastes really good.
The preserved vegetable, simply called xiancai (salty vegetable), is a popular side dish in local kitchens throughout the year. Highly recommended is the noodle soup topped with the salty greens.
In Yucun, a small town on the way up the mountain, there are several long-established restaurants such as Yucun Old Restaurant and Yucun Old Noodle Restaurant run by local farmers.
Yao Xaoqin, the owner and chef of the noodle restaurant, serves the best noodle I have tasted in Moganshan. She adds fresh green beans and bean curd and only a small amount of minced pork into the traditional preserved-vegetable noodle soup, which tastes extremely savory. If you like a light taste, you might remind Auntie Yao to put in less of the salty vegetable. The price is also a surprise: 9 yuan ($1.50).