Dadong set to serve Chinese delicacies aboard cruise ships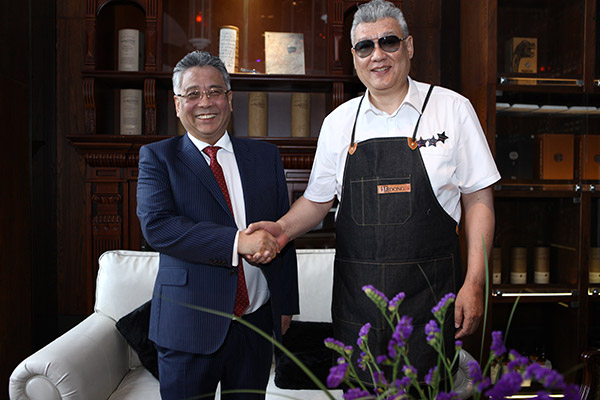 Celebrity chef Dong Zhenxiang, founder of the Peking roast duck restaurant chain Dadong, with Liu Zinan, the president of the China and North Asia-Pacific region, Royal Caribbean International. With the opening of Dadong Wonderland on two Royal Caribbean cruise ships, guests will be able to enjoy Peking roast ducks.[Photo provided to China Daily]
This will also be an opportunity to promote Dadong in overseas markets, he says.
Celebrity chef Dong Zhenxiang, the founder of Dadong, says: "The cooperation (with Royal Caribbean) means a lot to Dadong. It means that we are entering overseas markets."
Meanwhile, in the autumn, Dadong will open its first US flagship restaurant in midtown Manhattan.
Speaking about the challenges the cruises pose, Dong says: "With our rich experience and ability, we can still cook Dadong's dishes on board. And we will also develop new dishes."
Liu says: "We have to combine what Chinese consumers really like with the essence of international cruises.
"Cruises were initially designed for Westerners, but the products have been evolving since they were introduced to China. It's true that the competition in the Chinese market is fierce. But our solution is to make our products better," he says.