Wine on a mission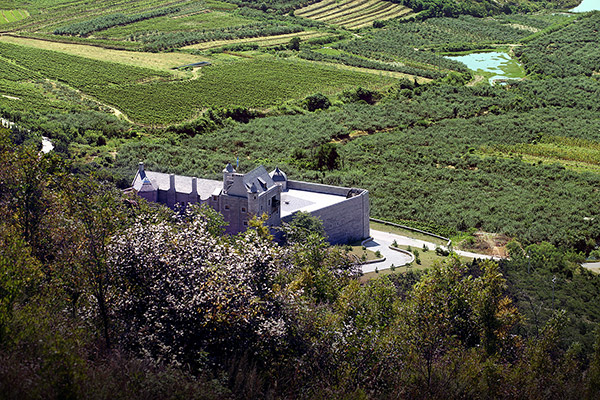 Chateaux in Penglai, Shandong province, boast grape plantations, winemaking, wine stores, guest rooms and sightseeing options. Some will host celebrations to declare the beginning of grape picking and winemaking in the fall.[Photo provided to China Daily]
A scenic valley in Shandong province is eager to show itself as China's best wine country. Mike Peters reports from Penglai, Shandong province.
If you don't know what's coming, the first sight of the Treaty Port Winery is quite a surprise: A stone Scottish castle that seems to stand guard over the river valley below.
In 2004, when Chris Ruffle began looking for a potential winery site in East China's Shandong province, he was all alone in the Penglai valley. Little more than a decade later, Ruffle can point to another winery in any direction from Treaty Port's scenic overlook.
In fact, as representatives of the Penglai wine bureau are eager to tell us a little later, there are 66 companies and 33 chateaux now in operation here, and a few more are under construction.
Most of them have their eyes on one particular neighbor: Lafite's China chateau, and the local Party chief who has joined our group of wine enthusiasts proudly notes that Lafite will deliver its first vintage at Penglai in 2018.
That much-anticipated wine from the most iconic French brand, the local industry hopes, will seal Penglai's claim to be "China's top wine area".
Penglai, perched on the Bohai Sea near South Korea and Japan, is already famous for producing gold, Fuji apples, automobiles, auto parts and ships. There are two national first-class ports, which carry apples to Japan and other goods everywhere.
But wine is a multi-dimensional prize, which aims to generate agriculture jobs, vintages with a reputation and tourists eager to visit tasting rooms and dip their noses in a few glasses.
At Treaty Port, our noses are in Ruffle's 2014 rose, a pleasant bubbly that's mostly grenache with a little sangiovese to give some floral notes.