Sino-Italian food safety forum targets fakes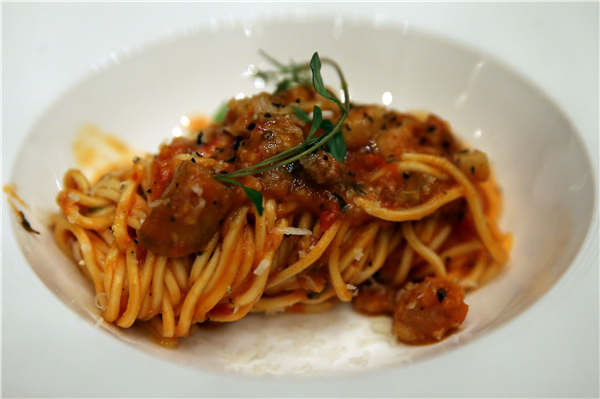 Italian spaghetti, traditional cuisine of the country. Experts from Italy and China had a forum to discuss the best way to improve food safety and protect culinary excellence in both countries. Provided To China Daily
Enhancing cooperation with China on food safety is crucial to defend "Made in Italy" products on the global market, according to Italian Agriculture Minister Maurizio Martina.
"It is crucial for Italy to cooperate more and more with China at institutional level," Martina says.
"More specifically, we need to strengthen all areas of legislative convergence, in terms of protection and promotion of our (agribusiness) productions, and on some specific plant-health and technical-commercial issues that have to be managed together," he adds.
The official made his remarks in an interview on the sidelines of a food safety conference organized by LUISS University and the Chinese embassy in the Italian capital on Tuesday.
Several experts from both countries came together to discuss the best way to improve food safety, protect culinary excellences in both countries, and fight counterfeit food.
Cooperation between Italy and China on this front has been developing within the "Sino-Italian Food Safety Dialogue" since 2013.
"Our ultimate goal is to build an ever deeper partnership, providing our agrofood products to the Chinese context in the right way, and- at the same time - recognizing the specificity of the Chinese experience here in Italy," Martina says.
Discussions at the conference also concerned e-commerce, and Martina mentioned the recent agreement signed between Italy and Chinese online platform Alibaba as a model.
"It is an exemplary case on how to create a good interaction between public and private at an international level and in a crucial sector such as e-commerce," the minister says.
The agreement was signed in September 2016, setting up a mechanism of both promotion and protection of Made-in-Italy agricultural products for the online sales on the Chinese platform.
Fighting counterfeit food is key to the Italian economy. The food-and-wine industry is its second largest manufacturing sector, accounting for some 8 percent of the country's gross domestic product. Counterfeit food, especially imported wine, is an old problem in China as well, and both provincial and national authorities have acted recently to tighten controls and traceability, eager to promote food safety and to legitimize imports for tax collection.
Counterfeit Italian foods on international markets in 2015 were estimated at over 60 billion euros ($67 billion), research by Italy's largest farmer association Coldiretti showed.
"I am glad Italy is the country that has been investing more in this partnership so far, and the only country to have built such relationship with a double objective," Martina says. "Promoting our products was not enough for us."
"We asked Alibaba to develop specific protection tools, because the fight against fake Italian foods is a necessary pre-condition to be able to support the real Made in Italy," he says.