Chef 's book, food fest offer tastes of her native Cape Town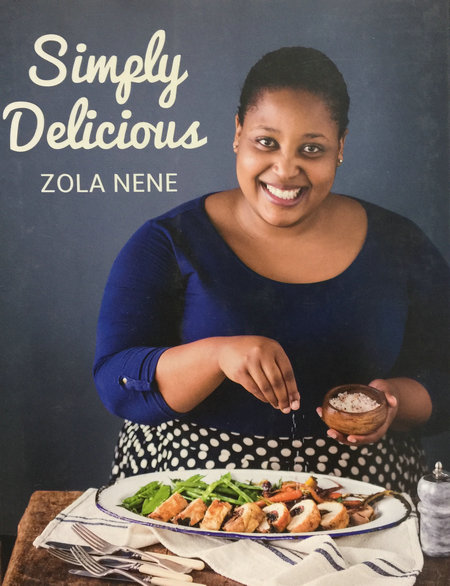 Cape Town's Zola Nene is in Beijing for a food festival with recipes from her latest book, Simply Delicious.[Photo provided to China Daily]
South African food made a splash in China last week, with two TV hosts and authors scooping up honors at the Gourmand International awards in Yantai, Shandong province. One of them, Cape Town's Zola Nene, is lingering in Beijing for a food festival at The Village Cafe, which continues through Monday.
The menu features recipes from her latest book, Simply Delicious (about $20, from Penguin Random House). It's a tantalizing journey that follows Nene's career in food, one mouth-watering dish at a time.
The opening chapter, "Nostalgic Nibbles", is all about the comfort foods she enjoyed growing up.
"Steamed mealie bread was the first thing my maternal grandmother taught me to make," she says, "and her steamed bread is still a family favorite." Mealies are corn kernels freshly shaved off the cob, and the bread is one of several recipes that originate in India (chicken biryani is another family favorite). One legacy of South Africa's colonial past is that food cultures of several countries have melded in South African cuisine over the past two centuries.
Also getting star billing among the comfort foods is roast leg of lamb, which Nene recalls as one of the six roasts always on the table at Christmas.
"Don't judge me!" she jokes in the recipe notes.
Her youthful enthusiasm for food has stayed with her.
"I took a two-year study break and ventured off to the UK to see if I actually wanted to make a career of my love for food and cooking," she says. She snagged a job as vegetable chef at an upscale brasserie in Cheshire, where "I must have peeled 10,000 potatoes during my time," she writes. "The menu had every potato dish imaginable, from silky mash and crisp roast potatoes to hand-cut chips and pommes boulangere, but my favorite was always the creamy potato Dauphinoise." Since then, she's made the dish her own with the addition of sweet butternut squash.
Her days working in British restaurants get a chapter of recipes in Simply Delicious, and the book tracks her culinary career from there, gathering recipes from different jobs and experiences. A final chapter is "a representation of where I am right now in my life," filled with the recipes she likes to make for herself at home to enjoy with her friends. These include butternut and chickpea tagine with couscous and boerie roll, a sausage encased in baked dough for those times when she's in the mood for braai (South African barbecue) but can't be bothered to light a grill.
Another favorite to make at home is spicy lamb potjie, a slow-simmer stew served with crusty bread.
"I love dishes that take minimal effort to prepare, but pack a punch in flavor," she says.
At the ongoing South African food festival she's hosting in Beijing, offerings include a cumin-and-cinnamon-scented butternut soup, pan-seared whitefish in curried cream, bobotie (a curry-crusted beef fillet) and for dessert, a shortbread crumble with coconut meringue, apricot and vanilla ice cream. A three-course lunch is 108 yuan net (about $16), dinner is 168 yuan net, including your choice of South African wine, cider, fruit juice or passion-fruit iced tea.
If you go
Village Cafe
Through June 5 at Opposite House, 11 Sanlitun Road, Chaoyang district, Beijing. 010-6410-5210.