Stacy Julius from South Africa has been studying in China for 10 years and she is still curious about Chinese culture and cities.
When she had a bird's eye view of the container terminal at Dalian Port, one of the busiest ports in China, she was excited.
"How can we enjoy tax exemption in bonded areas? Are the logistics convenient?" The 28-year-old student kept asking questions in Chinese during her visit to the Jinpu New Area, a state-level new area in Liaoning province, on June 17.
Julius is studying her inter-national trade doctorate at Dongbei University of Finance and Economics.
She now speaks fluent Chinese. If people listen to her without seeing her face, they might think they are talking with a Chinese local.
She likes to be called by her Chinese name and introduces herself by using the Chinese zodiac system.
"My name is Zhu Siwen. I was born in 1988 and my Chinese zodiac is dragon." She is satisfied with that name and often explains every word patiently. "Zhu means the jewelry that South Africa produces, Si reminds me of learning to think, and Wen is cultural transmission."
Julius loves the city of Dalian because of its beautiful environment, convenient traffic and good social security.
"People are nice," she added, explaining that she has lost her mobile phone several times and every time people have returned it to her.
And her favorite, of course, is the Chinese food, especially the delicious seafood in Dalian.
"Chinese food is my happy trouble. I have gained 10 kg since I first came to China, though I kept playing volleyball and badminton," said Julius.
In March 2006, when Julius graduated from high school in South Africa, she was sent to a language university in Beijing to study Chinese for a semester.
She came to study in China due to her father's suggestion. Her father is a foreign trade merchant who visited China with then-President Nelson Mandela in 1999. When he returned to South Africa, he told Julius and her brother that China is a great country, and they both should learn Chinese.
"In the beginning, I planned to study in China for a semester but now I have been here for over 10 years," she said.
Julius became very interested in China's 5,000-year civilization.
"After that semester, I fell in love with China and was reluctant to go back so soon." She eagerly found ways to stay and learned about a scholarship for international students that is supported by the Chinese government on the Internet. Her application was approved.
Her brother is studying for his master's degree in Music in Shenyang at present and her parents often come to China to do business.
"Currently, the economy of Northeast China is facing downward pressure, but I'm optimistic about the future. When I get my doctorate, I'll definitely stay here," said Julius.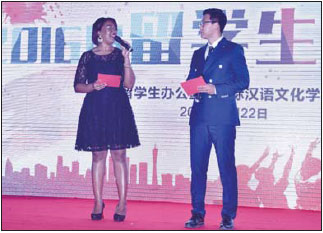 Stacy Julius (left) hosts a graduation ceremony for overseas students at Dongbei University of Finance and Economics on June 22.Liu Xiaodong / For China Daily
(China Daily 09/30/2016 page6)