Visiting chef serves up flavors of Sicily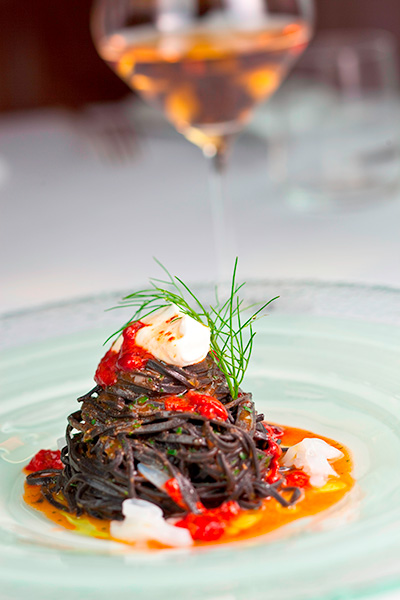 Black ink spaghetti with sea urchins ricotta [Photo provided to China Daily]
He really likes simple and homemade dishes. His favorite ingredients are aromatic beet tops, tomatoes, citrus fruit and spices. He loves Mediterranean fish and French patisserie, and says he cannot resist the temptation to taste and buy new cheese, whether Italian or imported.
Sicilian chef Vincenzo Candiano says his culinary consultants are his grandmother and his aunt -- but one suspects there have been other inspirations, too, if the dishes he's preparing this week in Beijing are a clue.
The chef of Locanda Don Serafino since 2002, and his kitchen artistry earned the restaurant its first Michelin star in 2007 and a second star in 2013.
Through Friday night, he's teaming up with head chef Fabio Nompleggio at Cepe, the Italian restaurant at the Ritz-Carlton Financial Street, for a series of set menus starting from a three-course lunch menu 588 yuan per person to an eight-course feast available only at dinner (1,088 yuan). A gala dinner finale on June 16 (eight courses including beverage and welcome canapés) is 1,588 yuan.
Through June 16, Cepe at the Ritz-Carlton, 1 Jinchengfang Street, East Financial Street, Xicheng district; 010-6629-6996.