Bare naked fish time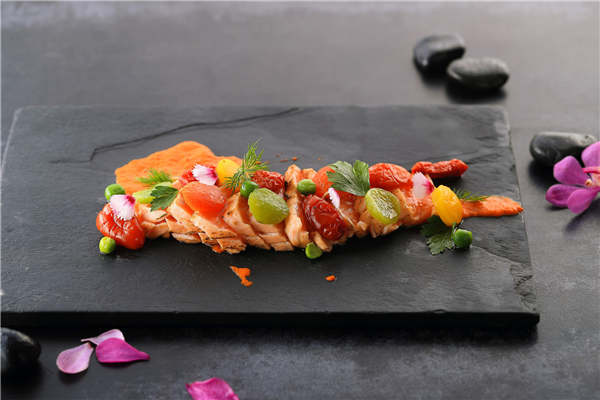 Seafood is the traditional heart of poke, but chef Sandeep Bhagwat isn't afraid to let steak get into the mix. Photos provided to China Daily
Simple, fresh and colorful poke has taken the food world by storm, and China is eating it up, Mike Peters and Xu Junqian discover.
"For Hawaii locals, poke tastes like home," writes author Martha Cheng in her new book about the past year's hottest food trend. "For me, it recalls my earliest visits, when my dad and I would head straight from the beach to a Waikiki corner store and buy raw ahi (big-eye or yellowfin tuna) with our saltwater-soaked dollar bills. I grew up in San Francisco, but I had never tasted fish as fresh as this."
Cheng's romance with poke is beautifully captured in The Poke Cookbook: The Freshest Way to Eat Fish (Clarkson Potter, $16.99), and in the luscious photographs by Aubrie Pick. The fascination with poke (pronounced POH-kay) has become a global phenomenon, thanks to hip eateries focused on fresh, healthy fare and beautiful dishes that make colorful ingredients leap from the plate to the eye.
In simplest terms, poke is a raw fish salad-or, as the Huang sisters who run Little Catch in Shanghai like to say: "deconstructed sushi in a bowl".
Think of the freshest fish possible, Cheng writes, cleanly sliced and "glistening in seasonings that range from sweet to salty, nutty to crunchy".
"It is like salad, or fish-and-rice dishes for that matter," says Beijing chef Sandeep Bhagwat, who has teamed with his boss, executive chef Jackson Wu, to create a summery poke menu at the Opus Lounge of the Four Seasons Beijing. "It's an opportunity to play with a lot of flavors and textures. Each dish is served with a starch portion-usually rice, but we're playing with quinoa and couscous, too."