Shanghai shoppers make a run on Beijing buns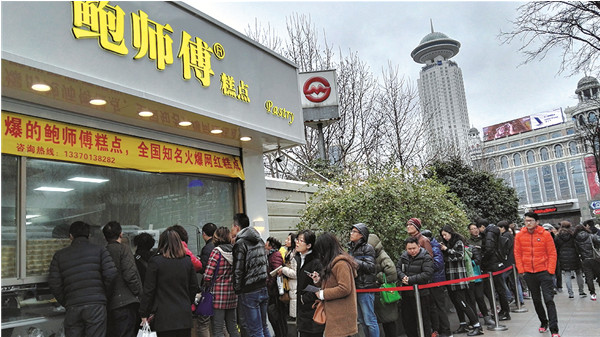 People wait in a line to buy buns of Master Bao at its first Shanghai outlet in People's Square. CAO CHEN/CHINA DAILY
Shanghai may be well-known for being a fast-paced city that never sleeps, but there is one thing that its residents will slow down for-food.
The latest food craze in the city involves a palm-sized bun topped with dried-meat floss and shredded sea sedges, something many Shanghai-nese normally dislike because of its coarseness.
The bun is sold by Master Bao, which was first established in a quiet residential neighborhood in Beijing in 2009. The company opened its first Shanghai outlet in People's Square in early February, right after the Spring Festival holiday.
Today, the line outside the shop can stretch hundreds of meters and customers have waited for several hours during peak times. The snack sells for between 19 and 29 yuan ($2.80 to $4.20) per 500 grams, depending on the type of floss.
"I called in sick at work just so I could wait in line and buy this bread for my girlfriend, who has been craving it for weeks," says a hotel manager who had been waiting for nearly two hours on a weekday afternoon. "This is the first and perhaps last time that I will spend so much time waiting to buy a snack."
Bao Caibin, the store manager of the Shanghai outlet, says that the craze in Shanghai is even bigger than what took place in Beijing and Tianjin. He says the line starts to form as early as 5 am and lasts till midnight. The store is currently limiting each customer to 2 kilograms of bread.
It remains a mystery to most foodies why the snack has become such a phenomenal hit. Unlike other wildly popular products like mooncakes filled with spicy crayfish meat or sticky rice balls stuffed with salted duck-egg yolk, there is nothing new or innovative about Master Bao's buns. Similar products have been sold at most bakeries across the city for many years.
Most of the customers who were waiting in the line said they were simply influenced by social media posts.
On Taobao, China's largest online shopping portal, people have been flocking to place their orders with dai-gou (shopping on behalf of someone else) services.
The website showed that more than 10,000 such deals for the buns were made over the past 30 days. A shop assistant says that nearly one-third of the orders are placed by customers in Shanghai.
While most daigou businesses charge a fee ranging from 5 to 20 percent of the price of the product, the most popular daigou store on Taobao is selling the buns at the same price as Master Bao, citing the fact that they are buying these snacks in bulk from Beijing.
The shop, which charges a delivery fee of 23 yuan, guarantees customers in Shanghai that they will receive their buns within 48 hours.
Cao Chen contributed to this story.