Chef teaches Chinese about New Zealand, one scoop at a time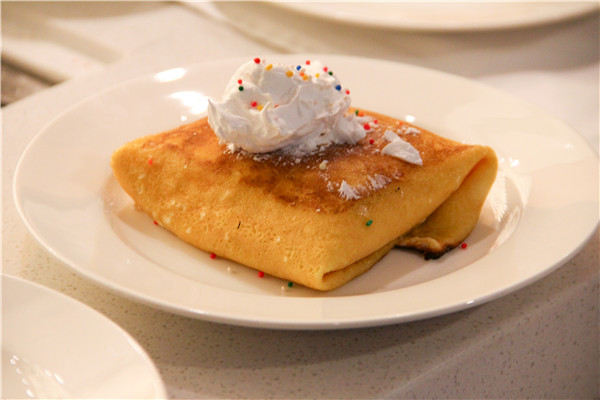 Award-winning New Zealand chef Dion McGrath shows off his treats matched with ice cream at a recent event in Shanghai. [Photo provided to China Daily]
Give a man a fish and you feed him for a day; teach a man to fish and you feed him for a lifetime.
That old Chinese proverb was not written for award-winning New Zealand chef Dion McGrath, but his kitchen trajectory in China could be a living example of the Taoist philosophy.
Having worked as a chef for almost three decades with various fine dining restaurants and five-star hotels mainly in Asia, McGrath took on the consultancy of New Zealand Trade and Enterprise in 2013 to help promote produce from his home country, a role that he hesitated about for five years before finally accepting.
"When I worked at JW Marriot in 2008, the New Zealand government first approached me and I said no," says McGrath. But when another chef pressed him to take on the important role in food education, he said OK.
The responsibilities as a consultant chef include collaborative promotions with five-star hotels and restaurants to add New Zealand products to the menus, retail promotions to open doors for new products, and cooking demonstrations and classes.
The role may sound more like a salesman than a chef, but McGrath makes both sides work.
"If a New Zealand company wants me to do a demonstration, first it has to promise me one thing: After I have done the demonstration I want to see how many sales (the product) gets afterwards," he says
Sales have usually been good, but the reward is not for his own pocket (he doesn't take commissions), but the impact his work has in millions of Chinese household kitchens.
"I have seen chefs doing cooking demonstrations that I, as a trained chef, won't even try because they are too difficult," he says. That's made him determined to make his demos both interesting to locals and reasonable to achieve in home kitchens.
At a recent event with Emerald Foods, for example, he developed a handful of recipes that "can be finished by anyone who can start a fire" for the company's several premium ice-cream brands like New Zealand Natural, Chateau, Killinchy Gold that were introduced to China for the first time.
The recipes include fried banana and ice cream, ice cream with Coke, cookie sandwiches, coconut-rice pudding and hokey-pokey-the last a special New Zealand flavor that's the second most popular in the country after vanilla. It consists of plain vanilla ice cream with small, solid lumps of honeycomb toffee.
McGrath thinks it's important to let the ice cream speak for itself: "Sometimes we get too caught up and putting too many things with ice cream."
"My philosophy is that for a great pure product you don't have to do too much with it. Sometimes the simplest is the best," he says, adding that for his ice-cream creations, he's very much inspired by his childhood culinary memories.