Veggie might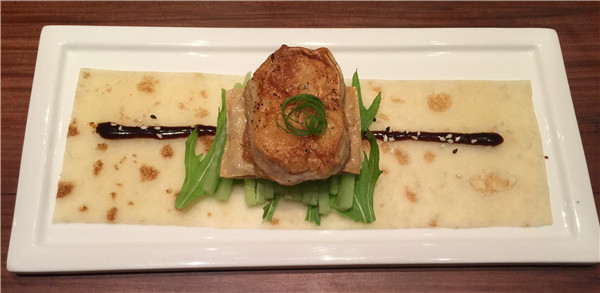 A seared king oyster mushroom is meaty without pretending to be meat in this spring pancake. [Photo by Mike Peters/China Daily]
Without benefit of meat, chef Tony Lu earns a Michelin star for Fu He Hui in Shanghai. Mike Peters discovers how he did it.
The best dish I'm having in an eight-course dinner may be one of the simplest: turnip with dry carrot, quinoa, soy and leek.
If my excitement is hard to comprehend, you might want to pay a visit to Shanghai's Fu He Hui, which recently earned one star from the Michelin guide.
The idea of a vegetarian restaurant would seem a challenging one. Fans of such an eatery are a mixed crowd. Many choose not to eat animal flesh for ethical, religious or environmental reasons-so what do they really want for dinner? Others, especially at the start of a new year, seek veggie plates for health reasons. They tend to remember bacon rather fondly.
Dinner at Fu He Hui won't be an everyday event for most, with dinner sets running 580 yuan ($85) to 780 yuan per person. (A "lighter" set designed for lunch is 380 yuan.) But chef Tony Lu's creations here are worth a visit for inspiration. China has set a national goal of reducing meat consumption by 50 percent, due to the environmental impact of raising livestock. Those with a vegetables-are-boring mindset may panic at that idea, but Fu He Hui will convince almost anyone that carrots and turnips and leeks can be tasty and filling.
Our eight-course set starts with a trio of canapes, which we are invited to nibble in clockwise order to savor an increasing intensity of flavor. First, there's a dense daub of soy puree, which is a bit of a snoozer despite its intriguing pear shape. Next is a "wild herb pocket", a spoonful of mixed greens deftly packaged in a thin sheet of bean curd. The finale is a flavor bomb-a rich, tart package of plum and lotus root.