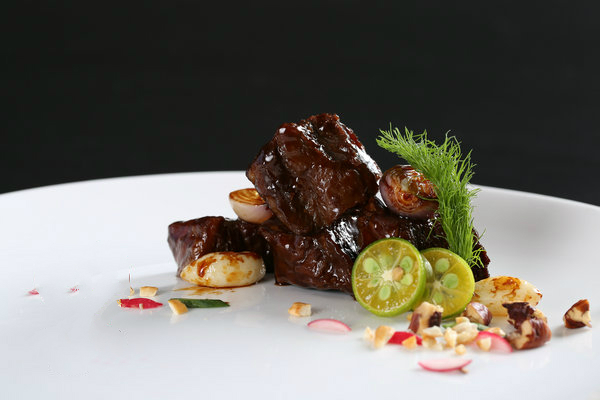 [Photo provided to China Daily]
Folks eating here have come for the food and to chat with friends and family in person. Zhejiang cuisine-one of China's eight classic styles of cooking-is famously delicate and light. Most dishes are simply and unpretentiously presented on white china that's a little shopworn, but the food never disappoints.
The showstopper on the menu may be a house specialty: sliced ham with honey sauce and buns. Refined from a private recipe of a big Shanghai family in the 1930s, the Jinhua ham with "superfine fat" gleams in the sweet sauce in which it has been simmered. The meat's texture may surprise at the first bite: It's nearly as firm as dried meat, except it's cut so thickly that it still has plenty of spring and it's easy to chew. The plate arrives at table pretty as a picture, the ham slices ringed with chunks of pumpkin and lotus seeds.
Another dish that beautifully evokes the region is stir-fried shelled shrimp with the famous Longjing (dragon-well) green tea. Like many Chinese dishes, there's a charming story behind it: The Qing Dynasty (1644-1911) emperor Qian Long was famous for visiting his people incognito, but when he presented a waiter in Hangzhou city some premium dragon-well tea to prepare for him, the waiter guessed his identity-and became so nervous that he spilled the tea onto the emperor's plate of river shrimp. The result was proclaimed to be delicious, and since then the dish has become a famous local favorite. At Zhangshengji, the platter is garnished with tea leaves, and a generous, shareable serving runs 198 yuan.