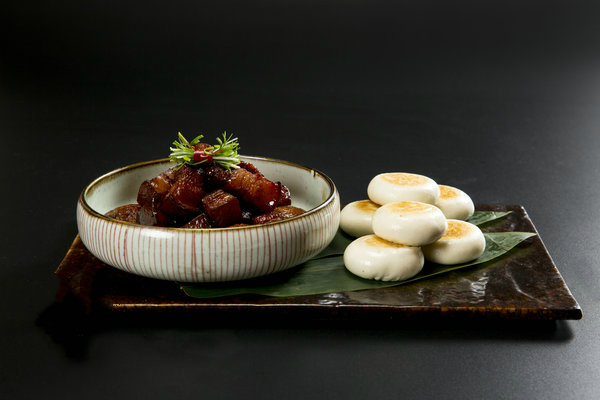 Pork braised in brown sauce, signature dishes of Zhangshengji. [Photo by Mike Peters/China Daily]
While Hangzhou spiced duck is a signature dish of the region, it can vary somewhat in Hangzhou itself: A more home-style version in a local canteen was spicier and not saucy but equally delicious-we had the pleasure of devouring a steel bowl full of it.
On menus, the bird is often referred to as "old duck", which probably sounds august in Chinese but lacks magic in English. There's nothing tough about this 1-year-old female green-head duck, which the Zhangshengji menu describes as "mature and healthy" and salted with soy sauce to give the duck the rich red color of Chinese dates (jujubes) and a savory fragrance. "Old duck" is cited in an ancient Chinese medical texts as a natural invigorant for humans that can cleanse the body off toxins and aid digestion. The restaurant says its chefs have invented various kinds of new dishes according to the scientific principle that "food and medicine have the same origin" based on ancient secret recipes.
Tradition is almost tangible at Zhangshengji, which serves up the classics in a white-tableclothed dining room and 10 private rooms for parties and business banquets. The diners tend to be Chinese and on the experienced side of age 40. The chatter and the clatter of platters is lively in the main dining area. There is not going to be a charger plug for your cellphone near the table.