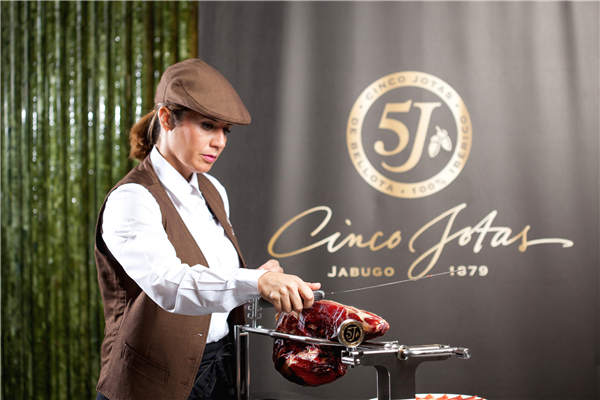 [Photo provided to China Daily]
The World Health Organization announced last year that eating processed meats could increase the risk of colorectal cancer, but Chinese consumers see hams produced in Spain as a safe choice.
"Spanish ham is a very unique product, but it's also seen as healthy, which is a real asset when you're selling to the Chinese," Oliver Win, a Hong Kong fine-foods distributor, told the Times.
Spanish authorities have categorized Iberico hams into four classes based on the purity of the pig breed, whether or not they are raised free-range, and whether they are acorn-fed or fodder-fed. Since 2014, the percentage of Iberian ancestry in the pig must be specified on the labels.
The finest Iberico ham is from pigs raised on the Iberian peninsula: They roam free-range in oak forests and are fed on acorns in the weeks before slaughter to increase the healthy unsaturated fatty acid content in the meat. The most expensive Iberico ham is cured for 36 weeks.
While most jamon producers use crossbred pigs, 5J is among the few brands that use 100-percent Iberico pigs, according to Simeon.
The company raises its own purebred pigs with strict quality control, and has masters at each step of the ham-making process, she says.