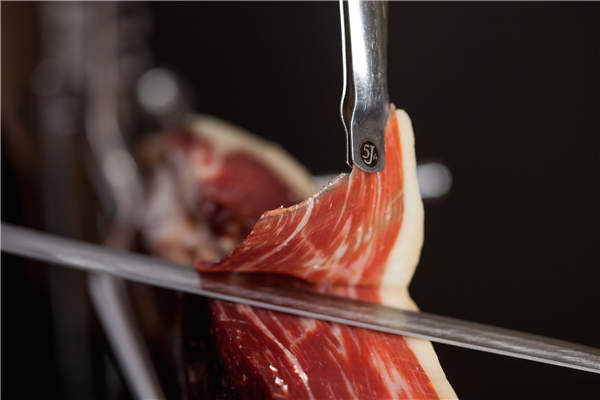 [Photo provided to China Daily]
"China has become the largest market for the company outside Spain," says the company's China representative, Emily Li, at a recent tasting event in Beijing.
"Chinese people are getting rich, and are willing to spend money on the expensive hams that we call 'affordable luxury'."
The price of 80 grams of the company's ham in a supermarket is 300 yuan ($45) to 400 yuan, making 5J among the most expensive Iberico hams, she adds.
Collectively, Chinese imports from Spain rose 35 percent last year, according to media reports in December, making it the second-biggest importer after France. A single 18-pound leg from one of Spain's famous acorn - and olive-eating pigs can cost up to $670 in Spain, and double that in America, according to The New York Times, and Chinese consumers pay even more for Iberico ham than Americans.
The Spanish delicacy has a distinctive taste, aroma and texture. It also provides health benefits due to its high content of essential trace elements and healthy fats.