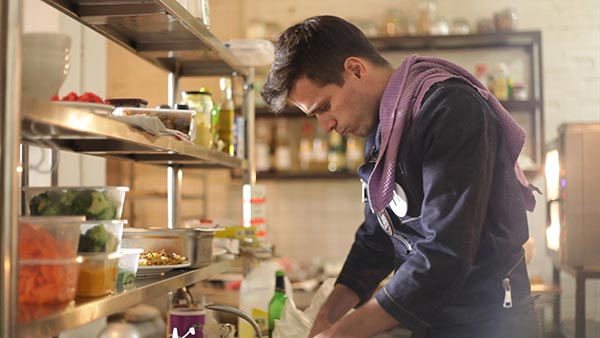 Antoine Bunel at work in his open kitchen. [Photo provided to China Daily]
"I love it when families come in," he says, "because I love to show kids how food is made. At home, cooking in China is often done out of sight, by grandparents or the ayi, so when I can take kids into the kitchen, they get quite excited to see the process. Being able to tell them 'You made it' is fun for me, too."
For dessert, we opt for his "cheese garden", Bunel's take on cheesecake. "I think the traditional cheesecake is way too heavy for the end of a meal, especially for Chinese tastes," he says. "I want people to be happy, not over-stuffed. So I make a version that's very light, more like cheese foam."
Another dessert is "mystery chocolate mousse", which again is lighter, more friendly to the Chinese palate-and simply healthier. "We whip tofu into the cream," he says. "The Chinese diet doesn't include as much dairy as Westerners are used to, and the tofu is more digestible for our Chinese guests and not really detectable by our laowai friends."
All in all, Bunel says, keeping things simple is usually key to good food-even French food.
"It doesn't have to be all steak and snails," he says with a grin.
Related:
Best Bites of Beijing (July 2-8)