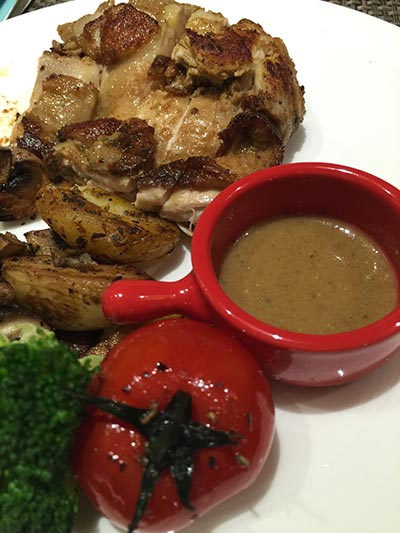 The fare at Jomi ranges from delicate morsels on bread rounds to hearty plates of chicken with mustard sauce. [Photo provided to China Daily]
Diners can see both sides in the current set-lunch menu, which features a mustard-sauced chicken leg and a more prettily plated sea bass.
A fan of Asian flavors, Bunel isn't shy about giving classic French dishes a Chinese kiss. The sauce he uses for his chicken leg employs not only the traditional mustard and thyme but a hint of Sichuan peppercorn, making the meat more fragrant, barbecue-style. The sea bass is dressed in a mayonnaise with Kaffir lime, so the plate has a Thai-style freshness. In another bit of light fusion, he serves Chinese mushrooms in fine puff pastry.
A shop at the front of restaurant offers several food products he likes to use, including the homemade plum juice that enlivens his cocktails and desserts.
The open kitchen, meanwhile, allows Bunel to take his online show-and-tell skills to his restaurant customers, too.