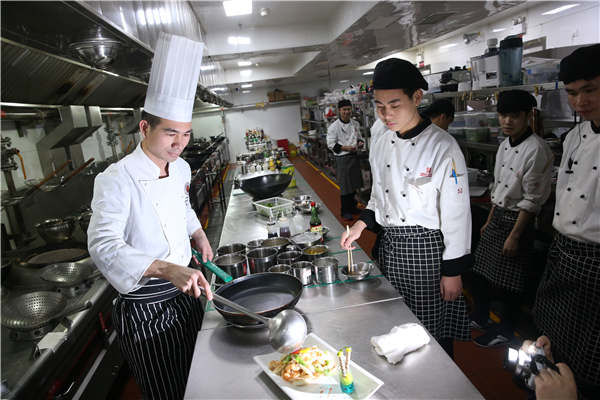 Head chef Long Shisheng at Yanxi Restaurant in Beijing's Huairou district has a special knack when it comes to Cantonese fare and fusion.
I also liked the chicken soup with chestnut mushrooms. The soup was smooth and flavorful, having a faint and pleasing aroma from the chestnut mushroom. The fungus, which is cultivated on chestnut tree logs, tasted delightfully crunchy, and the chicken was delicate and delicious.
Huairou tofu is also a must-have in the restaurant.
Made with mountain-spring water and locally grown soy beans, which are said to be rich in minerals, Huairou tofu is known for its tender texture and nutrition.
The restaurant serves the tofu with dried scallop and caviar. Dressed with soup stock made from pork, Jinhua ham (a specialty in Zhejiang province) and chicken, the tofu was so palatable that I just couldn't stop myself from taking more.
The restaurant also features a variety of vegetable dishes with the offerings of spring, such as cornmeal buns stuffed with the greens known as shepherd's purse, fried pepper leaves, and a cold dish of kucai, or bitter herbs, a wild vegetable that is good for the heart and blood vessels.
On the menu, guests will also find steak, sashimi, foie gras and such Sichuan-style delicacies as fried bullfrog.
If you go
9:30 am-2 pm and 5-8:30 pm. 555-8 Fangezhuang village, Yanqi town, Huairou district, Beijing. 010-6068-9998 (calling for reservation in advance is suggested).