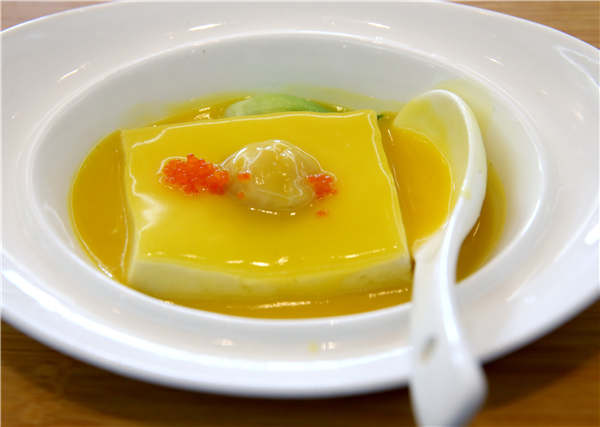 Yanxi Restaurant in Huairou offers diners a variety of delicacies with local ingredients, such as rainbow trout, foie gras, and Huairou tofu.
For one dish, he grills a deboned fish that has been marinated with shallot, ginger, celery, soy sauce and salt, and then covers the grilled fish with hehan sauce, a sauce that is made with cheese and mustard and is widely used in Cantonese cuisine, before roasting it in an oven.
The grilled fish tastes slightly pungent, and it's exquisitely meaty and savory under the crispy skin.
To make another dish, he debones and grinds the fish to combine it with egg white, and then fries the mixture in medium-hot oil to give it a spongy and tender texture that feels like wheat gluten but still retains the full flavor of rainbow trout.
Then the chef boils the "fish gluten", Chinese yam, and konjac (large starchy corms, used to create a flour and jelly of the same name) in fish-bone broth to make a delicious and nutritious soup.
I went to the restaurant last weekend, and the two rainbow trout dishes I had there were among the best I'd ever eaten.