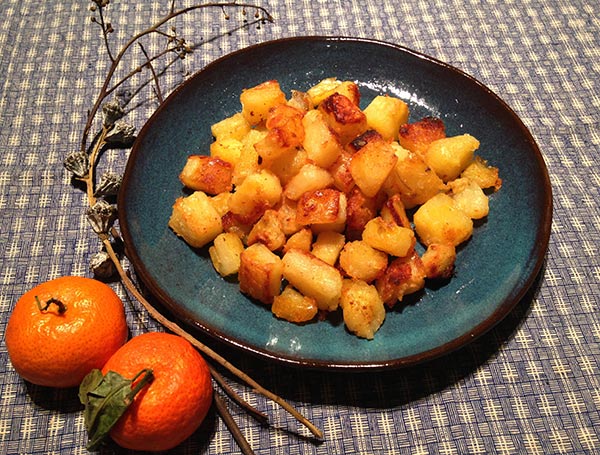 Badass Roast Potatoes. [Photo provided to China Daily]
B2B's Badass Roast Potatoes (adapted from a BBC Good Food recipe)
serves 2
Ingredients:
2 medium potatoes, peeled and cut into even-sized chunks
2 tablespoons butter
1 tablespoon lard (olive oil also works)
2 teaspoons flour
1 sprig rosemary, leaves pulled and coarsely chopped
2 garlic cloves, peeled and halved
How to make it:
1. Place roasting tray into oven and heat at 200 C.
2. Drop potatoes into large pan and add enough water to barely cover them. Add half a teaspoon of salt. Turn heat to high and boil water on high. Once water reaches a full boil, lower heat and simmer potatoes uncovered for three minutes.
3. While potatoes are simmering, drop butter and fat into roasting tray in oven.
4. Take potatoes immediately out of pan and strain in a colander. Shake colander vigorously (from side to side) to fluff up the edges of the potato chunks. Sprinkle with flour and toss to coat. Carefully place potatoes into the hot fat and slowly turn each chunk until they're coated all over. Spread them out in a single layer and make sure each chunk has enough room to brown. Bunching them too tightly will steam them and you don't want that. Sprinkle rosemary over and drop in garlic.
5. Bake for 15 minutes, turn the potatoes and bake again until nicely browned.
Related:
Pop-up joints join to promote pisco