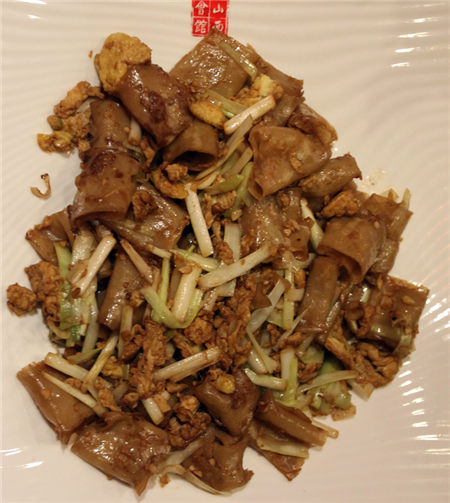 Sauteed kaolaolao with scrambled eggs
The key in preparing Shanxi food is controlling the vinegars, Li says. "The ultimate goal is to keep the vinegar fragrance and get rid the sourness."
The common practice is to pour the vinegar on the side of a pot when the food is almost ready. The high temperature will then make the vinegar evaporate, she explains.
The restaurant's cold dish, bone-free chicken feet, was a nice appetizer, a clear demonstration of tasting the fragrance of vinegar without the sourness.
An intriguing surprise: the big basket of lotus-leaf chicken wrapped in a bread crust. A waiter cuts open the bread layer and puts it aside, then rips open the lotus-leaf layer and knifes into the chicken. Four chunks of pig's feet were put in to complement the dish's taste and herald good fortune in life.
The chicken was marinated in soy sauce with garlic and ginger overnight before being roasted for 2 1/2 hours, and the result was so tender it practically melted in the mouth. The dish is presented in a big portion, reflecting Shanxi people's generosity.
High-pitched Shanxi folk songs, Peking Opera and a fire show performance are combined in an evening show on the first floor of the restaurant, which accommodates about 500 people. The second floor offers private rooms for six to 20 people, where diners can watch the performance on TV.
Contact the writer at yangfeiyue@chinadaily.com.cn
Sun Ruisheng contributed to this story.
If you go
11 am-2:30 pm; 5-9:30 pm. No 139 Heping Nanlu, Taiyuan. 0351-2727-287.
The live performance starts at 7:30 pm and lasts for about 90 minutes.
There are three other branches in downtown Taiyuan.