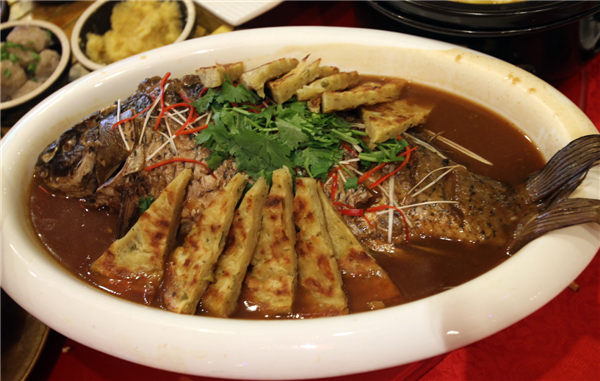 Big carp with pancakes
The dragon's-whisker noodle is a treat for the eyes: A hunk of dough can be turned into myriad hair-thin noodles in just a few seconds. The noodle is so thin that it can only be boiled briefly; then it's usually roasted with smashed sweet beans.
The diverse shapes are not just for show but for different chewing experiences, says Li Kun, service supervisor of the restaurant.
The knife-shaved noodle is relatively hard and chewy-especially popular among young people, she notes.
"The tijian (noodle bits scraped from a dough ball) resembles tiny fish and is softer than the knife-shaved noodle, so it's an ideal choice for the elderly."
Approximately 3,000 years of noodle history has enabled Shanxi people to develop their own system when it comes to eating noodles.
Local vinegar is an essential ingredient. Shanxi's geography, climate and soil are ideal for producing grains used in brewing vinegar. The smoky and sweet dark-brown liquid, known as "mature vinegar", is considered by many to be the best in China.