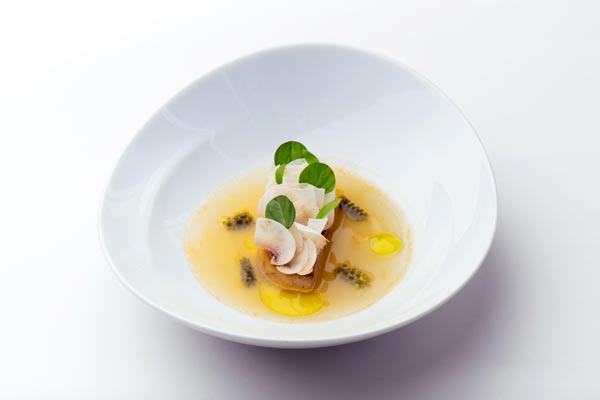 "Poie" Thai
A surprise was next. The "Poie" Thai paired Thai tom yum with pan-seared foie gras. Not sweet, as expected with foie gras, the dish was a bit of spicy with lots of traditional Thai flavors - galangal, lemongrass, kaffir lime and chili. I prefer the more traditional sweet accompaniment with foie gras, but this dish was nonetheless delicious, just not what I expected.
The "Carabinero" dish has intense shrimp flavor with a sauce made from a reduction of the heads and shells. The accompanying risotto was made with squid ink and garnished with garlic aioli and seaweed. The last dish from the sea was simply called "Garoupa". Garoupa is a very popular white fish in Hong Kong and was served pan-fried with a delicate lemongrass foam, smoked coconut and palm sugar consomme. The dish was light and elegant.
For my main dish, I chose the "Lamb". There is the option to have the "Wagyu" for a premium. Having spent two years in New Delhi, Armas pays tribute to traditional Indian techniques by pairing the New Zealand lamb shoulder with masala and yogurt. The dish is slightly sweet, and again for me, a little unexpected. The meat was very tender having been slow cooked before being pan-fried before serving.
A cheese dish was next, called "Babybel". Made with Brillat-Savarin cheese and black truffle, the cheese gets a beetroot coating to make it look like the popular snack cheese. Not recommended for those who are not beetroot fans though.
For me, dessert tasted better than it looked. "Violet" was a melange of violet ice cream, rose-colored meringue and goat yogurt. Light and fluffy, the dessert was not overwhelming and a good end to our food journey.
"The Expedition" 10-course degustation menu is priced at HK$1,080 ($139) per person. For an additional HK$500, guests can supplement their meal with the wine-pairing selection. "The Excursion", an alternative seven-course degustation menu, and a vegetarian selection are also available at scaled-back rates.