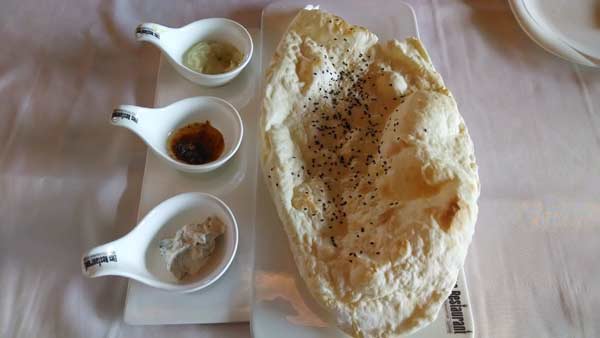 Lavash bread is soft and fluffy.
The other item from the charcoal grill was a mixed kebab platter of kofta, lamb chops, chicken wings, beef shish, chicken
chops served with rice and seasonal vegetables. This itself could be a full meal for a family of two. The chicken wings were crispy, and the chops fell of the bones in one bite.
Even though we were quite full, we did not want to miss the "Sultan sarma" on the list of main dishes.
This was charcoal-grilled minced beef and lamb balls, rolled in Turkish lavash bread, topped with cheese, diced potatoes, green peppers and tomatos, all baked and served in a beautiful tray. This was a heavy item as the cheese normally wipes away the appetite. Those looking for a taste of Turkish pizzas can choose from minis or the sliced and stuffed pita breads.
No meal can end without a dessert or two and here there was a choice of three traditional ones.
Kizarmis dondurma is a really big scoop of vanilla ice cream, coated with cornflakes and deep fried, and served with chocolate sauce. Call it truly sinful! We also enjoyed firin sutlac, a simple rice pudding.
A typical Turkish meal usually ends with either a coffee from that region or a mint tea. Efes did not serve any of these, however, so we settled for a bottle of water.
IF YOU GO
Efes Turkish & Mediterranean Cuisine
1/F, Block B. 1885 Lujiazui Culture Center
665 Shang Cheng Lu (Road), Pudong, Shanghai
021-5067-7716
Average cost per person: 250 yuan ($40) (without drinks)
Recommended: Chiburekki, Efes Kofta, Efes Karisik Kebaps, Firin Sutlac.