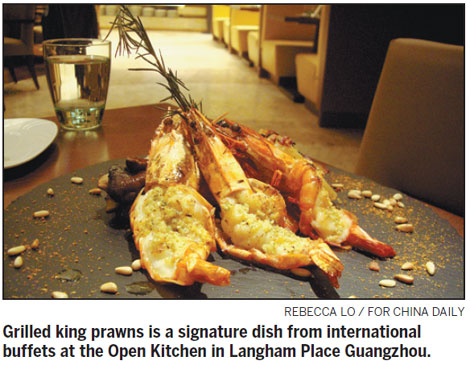 With its tempting choices of Asian and Western dishes available a la carte, The Open Kitchen has something for everyone, Rebecca Lo finds in Guangzhou.
It is easy to be impressed by Pazhou. The Pearl River island is home to the Guangzhou International Convention and Exhibition Center - one of the largest convention centers in the world at 1.13 million square meters. Every spring and fall, it welcomes the world to China's biggest trade fair: the Canton Fair.
Opposite the sprawling complex is Nanfung Commercial, Hospitality and Exhibition, a mixed-use complex composed of a 500-room Langham Place hotel, an exhibition center, an office tower and supporting facilities.
With more than 165,000 visitors and 22,000 exhibitors converging at Canton Fair semiannually, there are a lot of hungry people that need to be housed and fed. As a result, hotels in Pazhou have been sprouting like mushrooms, offering an international array of cuisines to suit every palette.
The Open Kitchen in Langham Place Guangzhou was one of the first restaurants in the hotel to open last October alongside its unveiling.
Located adjacent to the main lobby on the fourth level, it is a soaring, atrium-lit space with architecture by Andrew Bromberg of Aedas.
The Open Kitchen specializes in international buffets, and there are numerous stations that showcase chefs hard at work preparing pan-Asian delicacies. However, I was more interested in the a la carte menu and was pleased to see that it mirrored the buffet in range with carefully edited staples sure to please most palettes.
The six-page wine list indicated that - though dominated by French, Italian and Australian vintages - a decent variety was available. It was too bad that only one red and one white were listed by the glass. There were also about 10 Chinese spirits for those hankering for something stronger.