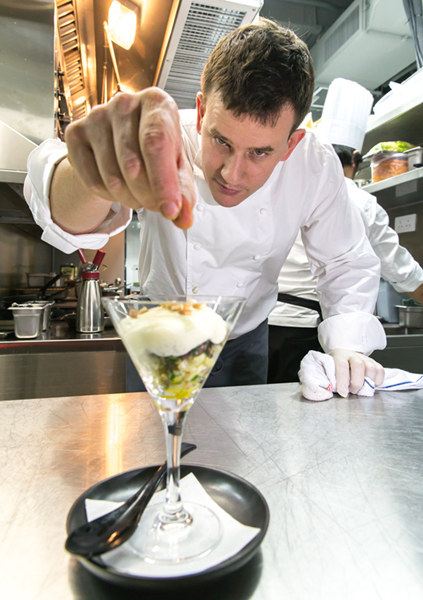 Chef Philippe Orrico of Upper Modern Bistro. Photo provided to China Daily
When I first saw the name Upper Modern Bistro, I expected a small and quiet venue decorated with lots of wood. I guess with the word "modern" in it, I shouldn't have been surprised to find a very contemporary and welcoming restaurant on an out-of-the-way side street.
Upper Modern Bistro is located in Sheung Wan just above Hollywood Road on Upper Station Street. I don't think I had ever been on Upper Station Street until I wandered up there to find chef Philippe Orrico's new restaurant. Orrico was formerly the chef at St. George's in the historic Hullett House in Tsim Sha Tsui. The decor of Upper is very much a departure from the colonial-styled St. George with its floor-to-ceiling windows overlooking the street and the cool and stylish modern interior.
The food is mainly French, with some dishes incorporating Asian ingredients. Upon arrival, crusty bread and butter were brought to our table. I had recently ended a break from wheat, so the bread tasted especially good to me with a crunchy crust with a soft, slightly chewy center.
We started with the cold tuna, squab and eggplant with piquillos and tomato. Served on a simple white dish, the presentation and the fresh sliced tuna gave the dish a very Japanese feel. The Brittany oyster, served raw in the half shell with a ponzu dressing, was briny and sweet with a hint of citrus from the ponzu.
A hot lentil soup followed, accompanied by a quail egg bun with bellota (acorn) ham. The soup is poured into a ceramic mug, containing a dollop of hazelnut emulsion, at the table. On the slightly chilly and drizzly day we dined here, it was the perfect dish to warm the belly. We expected the lentil soup to be thick like a chowder, but it turned out to be light, creamy and slightly foamy with some crunch and nuttiness from a few roasted hazelnut pieces. Usually served with smoked salmon toast, the soft quail egg bun was a delicious and rich alternative with a slightly runny yolk.
For those who like fish, the classic French dish sole a la meuniere here is served with a potato sauce and crabmeat resting on homemade gnocchi and small pieces of seafood. The lemony butter-fried fish fillet was crisp on the outside and tender on the inside. The sauce, gnocchi and seafood used to prepare this dish complemented the saltiness of the sole with the natural sweetness of the potatoes and seafood.
The charbroiled grass-fed and aged 40 days US beef striploin can be served with Romaine salad and potatoes or with artichoke macaroni. We tried the artichoke macaroni, which were pasta tubes filled with delicately flavored artichoke cream and baked in Mornay sauce and a sprinkling of grated Comte cheese. The pasta was not strongly flavored and let the natural artichoke flavor shine through. The most strongly flavored item on the plate was the small dish of tangy mustard with house-pickled small mushrooms. The acidity of the mustard helps to cut the fat, but for me, the meat was lean and tender and didn't need anything else.
Dessert was a beautiful mandarin salad, with mandarin ice cream, mandarin sorbet, mandarin sauce, slivers of mandarin zest and mandarin pieces. Decorated with salad greens that added a bit of bitterness and a fresh pansy, it was almost too pretty to eat. Almost. The dessert was eaten up quickly and one of my dining companions thought it was the best part of the meal. She loves desserts.
If you go:
Upper Modern Bistro
6-14 Upper Station Street, Sheung Wan, Hong Kong.
852-2517-0977.
Cost per head: HK$600-800 ($77-103); afternoon tea is available for HK$198.
Recommended: Cold Tuna, Squab, and Eggplant; Lentil Soup; Sole a la Meuniere; Charbroiled US Striploin with Artichoke Macaroni; Mandarin Salad.