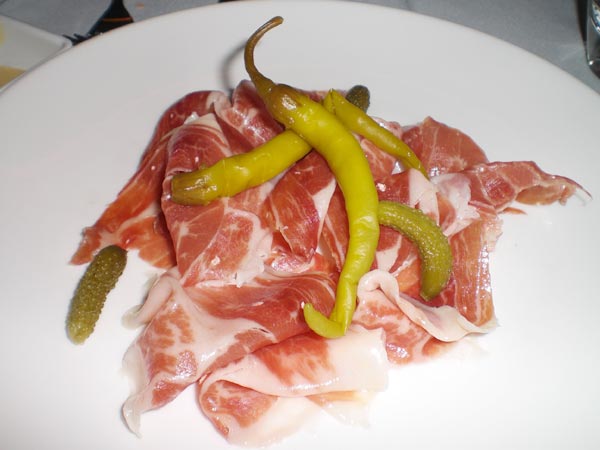 Iberian Bellota ham served at On Lot10. Donna Mah / For China Daily
Having lived in Hong Kong for more than two decades, it no longer surprises me when restaurants open and close within a short time period-some within months of opening. With sky-high rents and rising labor and ingredient costs, it is not easy for small businesses to run profitably. However, there are a few restaurants that have been around for a number of years-for good reason.
One such restaurant is On Lot 10 on Gough Street, in what has been called the up-and-coming NOHO (North of Hollywood Road) area for years. I remember when Gough Street was the place to go for a late-evening bowl of beef and noodles at my favorite noodle shop, or to sit outdoors on a lazy afternoon with a cup of Hong Kong-style milk tea and toast with a thick slab of butter. It was a very local scene at the time.
On Lot 10 has been a reliable constant on this short, narrow, and formerly quiet street.
Owner and chef, David Lai, is from Hong Kong and has cooked in Alain Ducasse kitchens in Monaco and Hong Kong. He now runs three restaurants in Hong Kong, as well as a bakery. He is an advocate of nose-to-tail dining as well as using local ingredients when it makes sense. The food at On Lot 10 is French, and the simple white decor is a good backdrop to the rustic style of dishes served here.
We dined with a large group of old friends who now live in different parts of the globe. Here on the second floor of this small restaurant, tables and chairs are placed outside for dining al fresco during the warmer months. We started with some plump Sicilian Nocellara olives (HK$60)($8) and acorn-fed 48-month Iberian Bellota ham served with crunchy pickled green chilies and gherkins (HK$160).
Salads came next with a Lyonnaise salad made with pork cheek bacon, dandelion, chicory, and a duck egg served sunny-side up (HK$98), and of course, a non-meat salad. Made with fresh leaves and a tangy dressing, these disappeared quite quickly.
The bone-marrow risotto (HK$170) had a rich beef flavor and was cooked to creamy perfection. The vegetable version looked good as well, but the vegetarians in our group gobbled it up before I had a chance to sample it. I was told it was "tasty".
We had a number of main dishes, some of which were selected from the daily specials. We had the organic salt-marsh lamb shoulder and autumn-vegetables casserole (HK$780), the USDA prime 100 percent natural grain-fed Angus rib-eye (HK$850), and the whole roasted chicken with morel rice pilaf and vin jaune sauce (HK$650). Though on the rich side, all were delicious with our favorites being the lamb and the chicken dishes.
A set lunch menu is available during the week priced from about HK$100.
IF YOU GO
On Lot 10
Gough Street, Central, Hong Kong. 852-2155-9210.
Cost per head: HK$800-1,200 ($103-155) (plus 10-percent service charge).
Recommended: Lyonnaise Salad, Bone-Marrow Risotto, Whole Roast Chicken, Organic Salt-Marsh Lamb Shoulder.