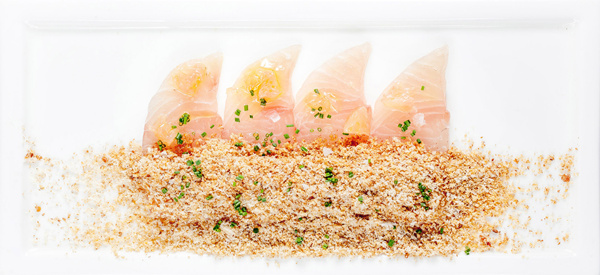 Kingfish sashimi, which is served with sherry vinaigrette and toasted pecans, is a delightful sight - and delicious. Photo provided to China Daily
A 'new broom' makes a sweeping entrance to a top kitchen. Xu Junqian reports in Shanghai.
There is an old Irish saying: "A new broom sweeps clean, but the old brush knows all the corners." Luckily, the new broom in what is arguably the city's best French kitchen is inheriting a kitchen that hasn't been left to him with dirty corners.
Paul Eschbach, the executive chef at Jean Georges, is the new "broom". And the "old brush" he is replacing is Kin Lam, a bohemian-looking Hong Kong native who has reigned over the restaurant since its opening 10 years ago and made it almost as popular as its counterpart in New York City.
Sounds like a lot of pressure? Not for diners, except for the fact that the newly arrived robust, onetime computer-science major from the US has waved his magic spatula and created a long menu to explore.
As a starter, the Japanese risotto is a beautiful marriage of cuisines. The moist grain is perfect to comfort a lost soul on a still-cold night, and some tingling, flirty Southeast Asian flavors add fun for your comforted soul - five herbs and an extra touch of porcini marmalade.
Our two main courses, roasted cod and seared beef tenderloin, are both oversized. Eschbach replies like a disheartened innocent: "So you think so too? I just want to share as much food as possible when it's really good."
He is right about the quality of the food. The delicate cod is beautifully moist, and the sauteed mushrooms like little umbrellas tucked below have collected the juices to savor as you cut the fish apart. The beef, on the other hand, is more masculine. The black-pepper consomme elevated the flavor of the meat and the searing developed a rich crust.
Dessert seems almost no-go territory for new brooms or old. Jean Georges Vongerichten claims to have invented the molten chocolate cake back in the 1980s, and his restaurants have made the classic Jean-Georges Chocolate Cake synonymous with the place. Like the views of the Bund and the extensive wine list, this is why you are here. It's almost sacrilege to order anything else.
The new broom gives it a try, though, with a seasonal special: Berries Sangria topped with Pistachio Foam and Fromage Blanc Sorbet. It's light and delightful, and said to be inspired from some latest fashion runway look. But it seems completely overshadowed by the chocolate cake, an also-ran unless you just don't care for chocolate.
If you go:
Jean Georges
4F, 3 Zhongshan Dongyilu (Road E1)(Three on the Bund, near Guangdong Road), Huangpu district, Shanghai. 021-6321-7733.
11:30 am-1 pm daily.
Average cost per head: 500 yuan ($81).
Recommended: Kingfish Sashimi, Japanese Risotto, Roasted Cod, Jean-Georges Chocolate Cake.