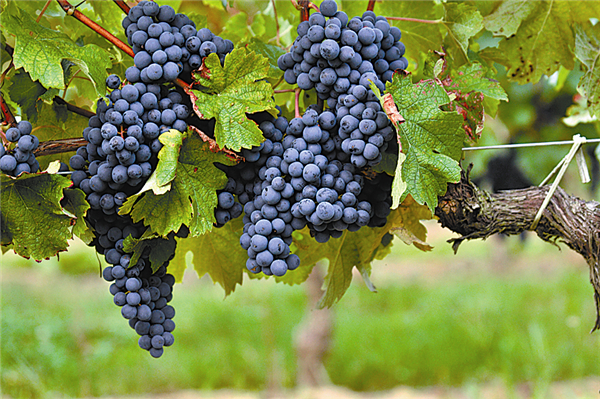 Cabernet Sauvignon grapes in a vineyard at Entre Deux Mers in Bordeaux. These grapes and Merlot are the two main red varieties of the region. Jon Wyand / for China Daily
Huge potential
"But this shows without doubt that the potential for wine consumption in China is huge," said Dong.
Despite that rise, wine has a long way to go before it can be considered part of mainstream Chinese culture.
"Drinking wine in France is more of an everyday activity, like eating. A bottle of wine will cost 5 euros or so at the supermarket, but you can also spend a little more, perhaps 10 euros, at a wine store and buy a far better wine," said Ducourt.
Lu Jiang, a Beijing-based wine critic and consultant who started his own company Wineonline Culture, to promote wine culture in China 10 years ago, said, "In China, wine is still more of gift and luxury item, rather than a 'fast-moving consumer good.'"
In recent years, the demand for better vintages from China's newly rich and officials has been rising rapidly. They see fine wine as a status symbol which provides an opportunity to impress their friends. Wines for banquets and gifts account for at least 70 percent of sales in China, said Lu.
However, since late 2012, sales of high-end wines have been badly hit by the government's anti-corruption program and a number of austerity campaigns, he said.
"Some large vendors weathered at least a 30 percent decrease in their sales volumes in 2013, and a number of small and medium-sized vendors went out of business", he added.
Ironically, however, the sales decline may have safeguarded the long-term development of the wine industry in China.
"The worst times have gone. The plunge in government and business orders has actually prompted vintners and wine-makers to shift their attention to nurturing individual markets by promoting the culture of wine and selling better value wines in accordance with people's growing interest and greater knowledge," Lu said.
Related: China still has a long way to go