China will set pace for wine industry growth
Chinese adults drink an average 1.4 liters of wine in a year, while the country will continue to see the fastest growth in wine consumption, according to study results released in Beijing on March 5.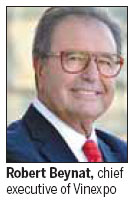 Robert Beynat, chief executive of Vinexpo, recently presented an in-depth analysis of world wine and spirits consumption, production and trade trends. The study analyzes the industry from 2007 to 2011, and offers an outlook through 2016.
For the 11th year running, Vinexpo entrusted IWSR, the International Wine and Spirit Research, to do the global study, covering 28 producer countries and 114 wine and spirits markets.
Beynat says world's wine production and consumption continue to grow, despite of the ongoing economic crisis. At the same time, he congratulates China, because it leads and will continue to lead market growth.
The findings show China is the fifth-biggest wine consumer, and the world's No 6 wine producer. At the same time, China is the fourth-largest importer of still, light wines by volume, and the biggest consumer of spirits.
China has seen the fastest growth in wine consumption, a leap of 142.1 percent from 2007-2011, reaching 159.25 million cases, or more than 1.91 billion bottles. The study forecasts that Chinese wine consumption will increase by an additional 39.62 percent - 71.63 million cases, or 858 million bottles - between 2012-2016.
The world's wine consumption, including still and sparkling, has grown much more slowly at 2.8 percent from 2007-2011, reaching 2.68 billion 9-liter cases, or 32 billion bottles.
The study projects that wine consumption growth will recover to 5.3 percent from 2012-2016, back to the level from 2000-2005, consuming 2.87 billion 9-liter cases of wine, or 34.481 billion bottles.
Generating 135 million 9-liter cases in 2011, China became the world's sixth largest wine producer, behind France, Italy, Spain, the US and Argentina. In the next five years, the study anticipates that China will strengthen its position, increasing its production to 166.6 million cases a year by 2016.
Meanwhile, the Chinese market is monopolized by still and light wines, although the study predicts China's sparkling wine consumption will increase by 26.84 percent between 2012-2016.
Among all the wines consumed in China, 91.7 percent of the still, light wines are red, reaching 145.45 million 9-liter cases in 2011. The report says the country's white wine consumption increase 53.55 percent from 2007-2011, and will grow by a further 56.16 percent between 2012-2016.
France, China's favorite source of imported wines, saw its sales multiply by six between 2007-2011. By 2011, French wine accounted for 47.7 percent of the total volume of imported wine drunk in China.
Australia is the second largest supplier; it saw a 300-percent increase in sales to China over the five years through 2011.
Even so, most wines consumed in China are actually made at home. The report says China has 450 grape-based wine producers. Consumption of imported wines rose by 360 percent in the five years between 2007-2011. Consumption of imported wines account for almost 20 percent of the full volume of wines drunk in China, but account for 44.42 percent of the total retail value.
At the same press event, Vinexpo chairman Xavier de Eizaguirre announced that Vinexpo 2013, International Wine and Spirits Exhibition, will kick off in Bordeaux on June 16, and lasts until 20. The Chinese pavilion there will feature Yunnan Red Chateau & Wine Ltd Co, along with 10 producers.
yejun@chinadaily.com.cn