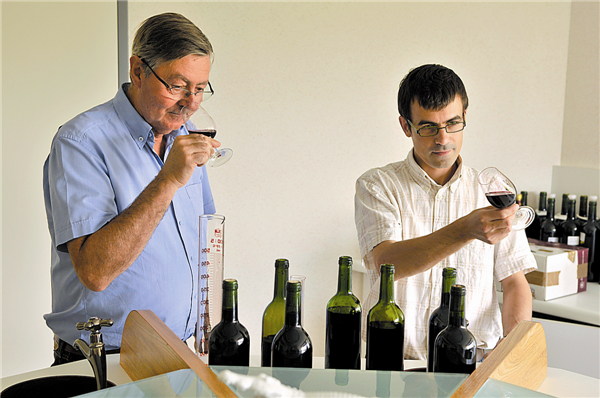 Bernard Ducourt (left), former general manager of the family-owned company Vignobles Ducourt, and his nephew Jeremy in the tasting room, hard at work blending the family's 2009 vintage red wine. Jon Wyand / for China Daily
"Foreign investment in wine properties in Bordeaux is actually contributing to our original heritage by extending our wine culture and visibility," said Ducourt.
"We not only have the Chinese, but also, for example, the British and Irish people who came to the region. They have not only brought money and technology, but also fresh business ideas, which can open new markets for Bordeaux wines," he added.
That assertion was echoed by Li: "Our Chinese clients are devoted to making good-quality wines. For example, after purchasing the chateaus, they also invested heavily in improving the quality through the use of oak fermentation barrels, investment in storehouses and by renovating the cellars, which are so important for improving the quality of the wine."
But, that improvement in quality isn't just about asthetics; many Chinese buyers are eyeing the lucrative returns that can accrue from selling fine wines in China.
"On the European and US markets, a 3 to 8 percent return on investment can be expected, but for some Chinese chateau owners, the rate is much higher. Some can make large profits by simply selling wine from the cellars to China", said Li.
China's newly affluent middle class, an influx of wealthy returnees from overseas, the rising number of foreigners living in China, and the country's wider exposure to Western lifestyles mean that an increasing number of Chinese are becoming interested in wine culture and learning more about it.
"In the past, wealthy Chinese buyers came to Bordeaux and looked for beautiful chateaus with classical architecture and they weren't very concerned about the vines. But nowadays, I'm impressed that more and more Chinese investors are showing great knowledge about wine. They are now looking for higher-quality wines and are perhaps less concerned with the chateaus' buildings," said Li.
According to a report from the Economic and Research Department of Le Conseil Interprofessionnel du Vin de Bordeaux, the local wine bureau, the region's wine exports to China accounted for 338 million euros in 2012, the largest in terms of volume and second in terms of value of all the council's destinations.
Consumption set to double
However, statistics about wine consumption in China are hard to find. According to Dong Shuguo, a wine industry analyst and president of the website winechina.cn, China's total consumption came to roughly 50 billion yuan ($8.3 billion) in 2012. "Using figures from the International Organization of Vine and Wine, it's estimated that China's wine consumption will double by 2016, by which time the country will be the world's second-largest wine market", he said.
Per capita consumption in China has seen continual growth during the past decade, rising from just 0.25 liters per annum in 2002 to 1.31 liters in 2012, a fivefold increase, according to a report by the Fortune Character Institute, part of Fortune Character, a media group that focuses on China's business elite and the luxury market.
By contrast, a recent report from the London-based International Wine & Spirit Research, the average per capita wine consumption in France is 53.2 liters per annum, signaling that consumption in China is in its infancy and lags behind major wine-growing regions.
Related: China still has a long way to go